Post written in collaboration with the team at the Nature Conservation Foundation
---
On 21 May, Endangered Species Day, StoryWeaver, in association with the Nature Conservation Foundation, is proud to present a new book for children on the most elusive cat in the world: the snow leopard.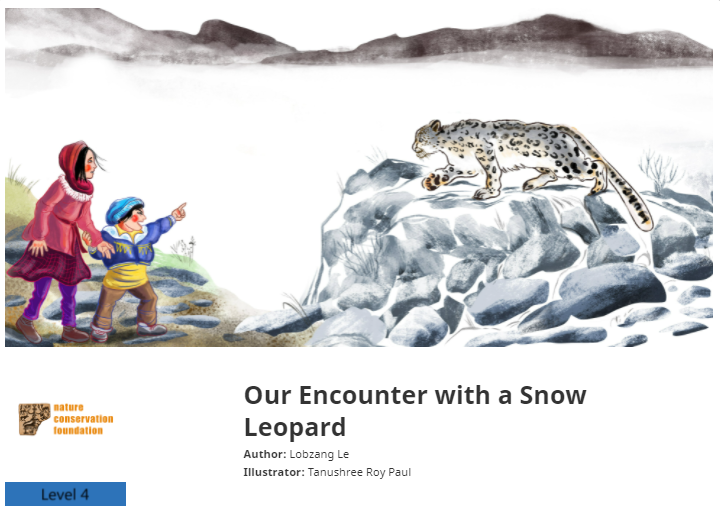 Our Encounter With a Snow Leopard is based on a real-life story written by writer Lobzang Le, who grew up in a remote village in Ladakh. One day when she takes her family's livestock for grazing, she and her little brother come face to face with the elusive mountain cat - the snow leopard.
In this blogpost, we speak to Lobzang, the author, and Tanushree Roy Paul, the artist who brought the story to life.
---
Conversation with Sherab Lobzang, the author
Sherab Lobzang grew up in Kumdok village in eastern Ladakh. It is a remote hamlet in Rong valley, approximately 110 km away from Leh. She did her Masters in Political Science from Jammu University. Since her childhood, she was attracted to wildlife owing to her agro-pastoral family. She joined the Nature Conservation Foundation in November 2016. She looks after education related activities in the landscape and fieldwork. Lobzang enjoys her work as she believes wildlife conservation is essential for the communities.
Tell us about why you chose to write about the mountains and the snow leopard? What has been your inspiration behind the same?
I like the trans-Himalayan landscape and I love to explore these regions during my fieldwork. This is the reason I choose to write about it. My childhood experience connects a lot with my present work in conservation, which inspired me to write this story.
My friends in my team helped me and motivated me to write this story. Special thanks to Munib, Ajay and Dorjay because they motivated me to write this. The idea of having this story in StoryWeaver was suggested by my colleague Shweta and Jignasa who work with the communications team of NCF
What is the message that you hope to share through these stories?
I just want children to be aware and be amazed by a landscape that lies on the fringe of India. Not many people know about the way of life of the people of Ladakh.
---
Conversation with the illustrator, Tanushree Roy Paul
Tanushree Roy Paul is a Masters of Design graduate in Animation and Visual Studies from IDC, IIT Bombay. As a young artist, she created Illustrations for poetry of social protests and revolution and worked on sequential stories. She continued her visual arts journey by serving as an illustrator, graphic storyteller, photographer and animator to clients like Eklavya Publications, Resha by Medhavini, Farzidarzi, Ekamkaaya, Leafbird Foundation, TBS planet and Pratilipi, to name a few. She had served as an avid academician for the past 4 years guiding the young creatives in the field of Animation and Design and is currently administering her multifaceted art and design studio: The Kairos Pictures.
What did you like most about doing artwork for this book?
I believe I am one of those foot soldiers whose work had been mostly on and about documenting through visual tools, the biodiversity, ecosystems, the life around us in general. Being an academician, it has always been on my radar to educate the young thinkers and creators on environmental issues. Hence, it was obvious for me to work on this book.
What is special about drawing snow leopards?
What wowed me about this project was an opportunity to highlight an endangered majestic being and the book being a part of its conservation drive. Personally, I got a chance to know about the hardships of life at an altitude where these Phantoms of the Himalayas survive and thrive. In simple terms, the research process while developing the book had been thrilling.
How connected are you with nature? Were you able to draw inspiration from your connection with nature into the book?
According to my observation, I have witnessed artists or creative folks in general have a propensity to love, admire, adapt and work towards the conservation of the environment, our nature. I have had an intense inclination towards our environment since my childhood, and believe that being an artist is a by-product of that inclination.
I certainly got an opportunity to out-pour what I stored for a few years now since my several visits to different regions of Himalaya, this is the first story that I am illustrating related to the Himalayan ecosystem.
---
Read Our Encounter With a Snow Leopard - written by Lobzang Le, illustrated by Tanushree Roy Paul, and published by the Nature Conservation Foundation - for free on StoryWeaver.
Be the first to comment.
---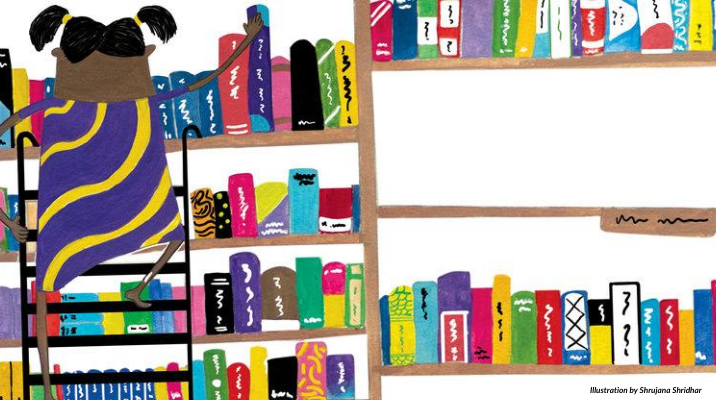 About the organization:
Pratham Books was established in 2004, as a response to the need for reading materials in the languages that children speak and learn in. Pratham Books is a not-for-profit children's book publisher that publishes high quality, low-cost storybooks to promote reading acquisition among children. We have created a new and innovative model in print publishing that took 30 million storybooks in multiple Indian languages to children across the country at an average price of US$ 0.50 per book.
In 2015, StoryWeaver, our digital content platform was created, which provides free and open access to all of our books. Users can read the books online, offline or in print. They can also translate and version the books into new languages and forms, using the technology based tools embedded on the platform. In just 5 years,StoryWeaver grew 3300% from providing access to 800 books in 24 languages to
34,000 books in 293 languages, which have been read over 50 million times by users in 150 countries. StoryWeaver is used extensively by Ministries of Education, literacy organizations, and education technology applications to improve reading and learning skills among children. It is the largest and fastest-growing open repository of storybooks for children and has transformed the way books get created and used.
---
Background:
According to the Annual Status of Education Report, 20181, only 27% of children in Grade 3 can read at grade level. In the wake of the pandemic, students have been forced to shift to a virtual model of schooling. This transition has not been smooth for millions of disadvantaged children because of a lack of access to digital technology and relevant content.
To help bridge this divide and build a strong core of foundationallearning, StoryWeaver has created a Foundational Literacy Programme (FLP) for Grades 1 to 3, in 2 languages to improve reading skills, with the help of pedagogy experts. It consists of a Leveling Framework for Guided Reading, 180 books across 6 reading levels and teacher support materials. The programme has been designed for use in low-resource environments to directly benefit millions of children and educators in India.
1. Annual Status of Education Report. (2018).
http://img.asercentre.org/docs/ASER%202018/Release%20Material/aserreport2018.pdf
---
About the assignment:
Several state governments have evinced interest in implementing StoryWeaver's Foundational Literacy Programme. We are inviting proposals for a design for rolling out the programme through digital and classroom modes for grades 1-3 in two states.The programme has been currently conceptualised as a two-year engagement with the state. StoryWeaver will set up a FLP cell within the education department to support the state in designing and implementation of the programme.
Key deliverables:
Create a programme design after understanding systems level goals and targets on Foundational Literacy Programmes at the state level.
Recommend scaffolding material after reviewing the Foundational Literacy Programme collaterals based on the needs of the state.
Develop a teacher training programme after understanding the training requirements for language teaching for grades 1-3. This will need to include the delivery mode (digital or blended), formats (masterclasses, certificate courses, modules, training videos etc), duration and frequency. The consultant would be required to develop appropriate training modules depending on the requirements of the state.
Lead and prepare strategic roadmaps and implementation plan with goals, milestones and timelines to support the states
Create a delivery plan for the implementation of the Foundational Literacy Programme at the classroom level
Qualifications, skills, and abilities:
Strong understanding of the National Education Policy 2020 and Foundational Literacy and Numeracy Mission
Strong understanding of how educational technology can support pedagogically sound learning solutions to improve educational outcomes
Good understanding of policies regarding early grade literacy and language development
Master's degree or equivalent in relevant field of education
15 years of working experience in primary education sector
An analytical mindset with problem-solving skills
---
Proposal submission guidelines:
We invite proposals from individuals to propose a strategy and broad implementation plan for the objective mentioned above. A proposal of 3-4 pages or a presentation with maximum 15 slides from interested individuals, outlining proposed strategy for project implementation, including capacity building of different stakeholders, financial proposal, timelines along with their CV need to be submitted. The proposal can be sent to [email protected]. Contract terms and conditions will be negotiated upon the selection of the winning proposal.
---
Be the first to comment.
---