C.P. Ravikumar grew up reading translated stories. He translates at least one story or poem on his blog every day to keep the child in him alive. He has translated for National Books Trust and Pratham Books. Navakarnataka Publications has adopted his series of short stories translation in a book called "Kadinalli Beladingalu". His translated poetry collection has been published by Abhinava Prakashana. He has translated several works by famous authors in English and Hindi into Kannada and received appreciation for the same. He toggles between Hindi-Kannada-English, often translating simply for the joy of it.
On StoryWeaver, he has translated many books into Kannada including I Want That One and I Can Help!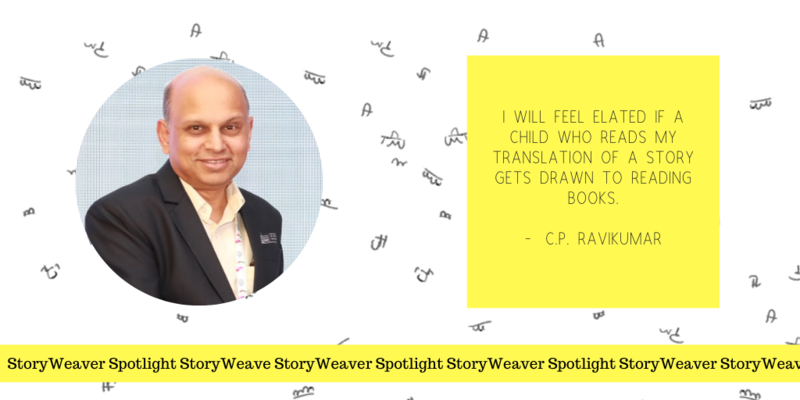 Q: With more than 4 decades of experience in translation, how did you cultivate the skills needed for translating children's books?
I grew up in a literary environment. My father was a journalist and a writer. He was an avid reader and our house was full of books. I picked up the habit of reading at a young age. When Samudaya, a drama troupe, was looking for someone to translate the Hindi play Bakri (written by Late Sarveshwar Dayal Saxena), my teacher K.N. Nagaraju asked me if I could do it. I had finished my pre-university exam and was awaiting results. I took on the challenge. There were many songs in the play, which is written in the Nautanki style. I adapted Purandara Dasa's songs in my translation. The songs became a big hit under the music direction of Rajeev Taranath. The play Kuri, directed by M. S. Sathyu, also became a big success.
I got my second break when Navakarnataka Publishers contacted me. They were planning a big project called Vishwa Kathakosha which would have 25 volumes of stories from across the world. The original stories were translated first into English and the manuscripts were handed over to Kannada translators. My father knew the editor of the series Late Niranjana. Niranjana had heard about "Kuri," and gave me my second big break. I was asked to translate the volume of stories from Vietnam. The volume was called "Kadinalli Beladingalu." Interestingly, my father also translated a volume of stories from Holland for the series.
When I went to Los Angeles for pursuing my Ph.D., I started translating poetry and stories from Kannada to English. These became instantly popular with the readers of the Usenet group (the precursor of social media in the eighties). I had a large readership and I received a lot of encouragement from many erudite readers. Some Hindi-speaking readers requested me to translate stories and poems from Hindi to English. I have translated hundreds of poems and scores of stories from English to Kannada, Kannada to English, Hindi to Kannada, and Hindi to English. I have collected them in my blogs and they are available online. I have a large number of readers and you will be surprised to know that a big chunk of them are from USA! I enjoy translating. It is an opportunity to get to know a writer and to understand another culture. I also enjoy the challenge of preserving as much of the original flavor in the translation. There is a great sense of satisfaction when translating the classics – poems of Wordsworth, Yeats, and Auden, or sonnets of Shakespeare, Keats and Browning. I have attempted to translate poems from all countries to give Kannada readers a flavor of world poetry. For example, I translated the poems of Xu Lizhi, a young Chinese worker who committed suicide from depression coming from overwork and stress. I have also translated many American poems that have been written for children and adolescents.
Q: You carve out time for translating children's books from a busy life. What do stories in translation bring to young readers?
It is a pleasure to translate stories for children of all ages. I love spending time with children. My own two children will vouch for my ability to enthrall them with stories. When they were growing up, not a single night went without telling them a story. In the times of globalization, we see that children across the world are exposed to stories from different regions through movies, television and books. In this sense, children today can accept other cultures more easily. There is also an opportunity to pick up some values from other cultures. Take the story of Cinderella, for example. She never weeps, no matter how miserable her life is. She may feel a sense of despair, but she wants to win, nevertheless.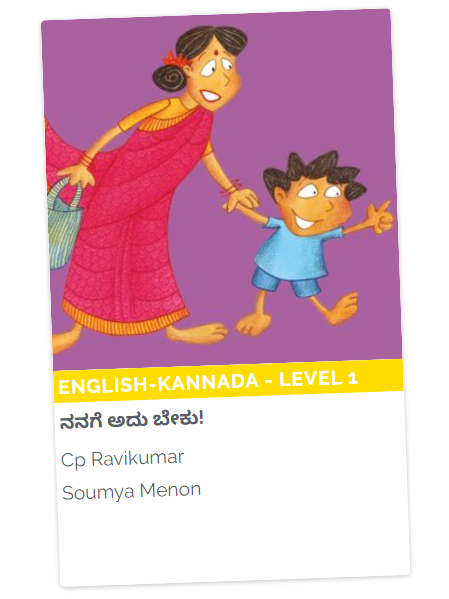 ನನಗೆ ಅದು ಬೇಕು!, translated by C.P. Ravikumar
Q: You are known for translating verses into Kannada, English and Hindi. What is your process while translating these gems? For Eg: Jerry Pinto's Ming-Ming, Fat Little Bear.
I thoroughly enjoy translating verse. Translating Ming-Ming, Fat Little Bear was a delightful experience. I suppose I ask myself, how I would narrate that story in Kannada to a toddler. In Kannada, like any other language, there are some meters or rhythms that are very popular in children's verse. It may be best to use one of them in the translation, so that we can build a connection with the child. Sometimes, it may be all right to use our poetic license to do a little bit of adaptation to make the translation seem natural.
Q: We see your fresh translations everyday. What inspires you? We have read your observations on teaching curriculums. According to you, how do stories influence children?
I love to read poems and stories when I am commuting. The commute in the city is long and arduous due to traffic, but it can become interesting if we have internet connectivity and a mobile phone in our hand. Today, there are repositories of literature that one can easily access on the Internet. I am tempted to translate poems or stories that I instantly like when I read them. I share these translations on my blog.
Stories that we grow up with influence our morality and our attitude. I will give you an example. My father used to tell us stories from a well-known book called Neeti Chintamani. There were very simple stories in that book. For example, there is a story of two women, one who was very careful with her resources and another who was careless. Listening to such stories at an early stage can help mold our character.
Q: What is your personal relationship with language and/or translation?
My father was an avid reader and encouraged his children to read. I spent five childhood years in Delhi. When we visited Bangalore once during this period, my father picked up a huge collection of children's books for us. We had this huge collection of books on our train journey back to Delhi and I and my brother were both hooked. In Delhi, there was a large public library in the vicinity of our house and I spent my summer months reading children's books in the library. I recall retelling those stories to my classmates. I suppose there is still some of that child in me still.
Q: You have translated / reviewed a handful of stories for us. Which one has been your favourite and why?
I enjoyed translating Ming-Ming, Fat Little Bear. It is a funny little story related in verse form. It is meant for children who are say five or above. That is the age group that is easiest to entertain!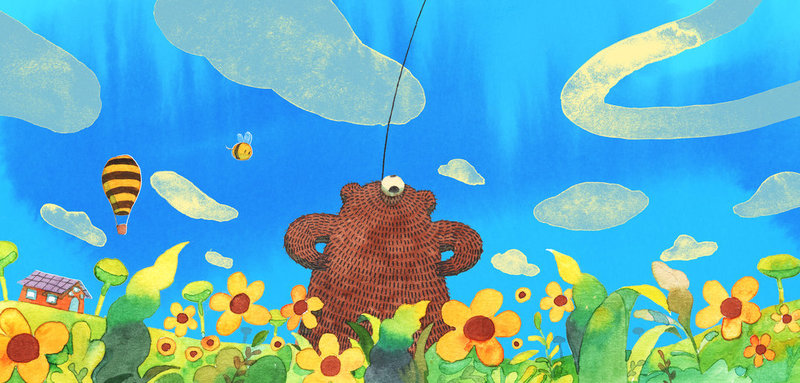 An illustration from the book 'Ming-Ming, Fat Little Bear' translated by C.P. Ravikumar into Kannada.
Q: You have translated stories by well-known authors into Kannada. How do you think a translation can reach a child as opposed to original stories?
To recount my own experience, I read "Robinson Crusoe," "Oliver Twist," "Treasure Island" and "Gulliver's Travels" in Kannada before I read them in English. These Kannada translations were among the books that my father bought us for the train journey. I was enchanted by these stories. I felt the same sense of exhilaration that an English-speaking child may feel when reading the story in English. Reading a story in our native language is easier and more appealing. I hope the best of world-literature becomes available to children through print media as well as digital media.
Q: You have translated a play from Hindi which has successfully been performed with 200 shows. According to you, what form of storytelling is most effective for children - stories told through books, plays or poetry?
Toddlers love stories and rhymes. They love the colorful illustrations in books. Just about anything can happen in these stories! Small children also take naturally to acting a part in a story. As they grow up, children will enjoy stories that will appeal to their sense of logic Teenagers love adventure and fantasy. If the child is lucky, he or she will get exposed to poems from a good teacher and will develop a liking for poetry. Every child should have an opportunity to be part of a school play! Reading a play can be as much fun as reading a story!
Q: What is the experience of translating a children's book like? Especially as opposed to translating for adults?
Anyone who loves spending time with children, narrating stories to them or reading poems to them, will enjoy translating children's literature. If you ask me, when I translate a story or poem for children, I imagine narrating that story or poem to a young child. When we translate for children, we have an additional responsibility – we are trying to get a child interested in literature. I will feel elated if a child who reads my translation of a story and gets drawn to reading books.
Q: A book you'd like to recommend to other translators?
I feel many great writers like Roald Dahl have not been translated into Indian languages. What fun it would be to translate Matilda!
Q: You have contributed for us immensely. How has the StoryWeaver journey been? What is one big takeaway from this experience?
The platform you have built is absolutely amazing. It is a pleasure to use the tools and see a book take shape in front of your own eyes!
Q: How do you feel when your story reaches the child?
It is most satisfying to find a like-minded reader. When it comes to a child, I suppose we have the additional challenge of inspiring the child. The illustrations and color go a long way in motivating the child to pick up the book. But if the child can relate to the story or the poem and picks up interest in reading, that would be most gratifying.
Q: How else do you think we can join hands to take more stories to more children in more languages?
You can consider doing reading workshops for children. It is equally important to get the word out about your books to young parents.
Q: You have contributed a piece of an article on the role of a translator for Kannada translation handbook in collaboration with Shabdana, centre for translation under Sahitya Akademi. How relevant do you think are such initiatives?
I am hopeful that such a handbook can be used as the resource material when conducting workshops for budding translators who feel the need to be mentored. Today, we find so much "how to" material online and the younger generation seems to be hooked to them. People are learning how to cook, how to solve math problem or how to troubleshoot their equipment. I suppose there will exist some people who want to know how to translate literature!
Q: What is the hardest thing about translating from English into Kannada/ Hindi to Kannada? How do you navigate words or phrases that are tricky to translate?
English language has borrowed from all other languages and has a very large vocabulary. In English, it is perfectly all right to create new words by combining other words, such as "Bus Stop" or "Hard Disk" or "Read Only Memory." When we try translating "Bus Stop" literally into Kannada or Hindi, it somehow does not sound right. Either we must shed these inhibitions and create a larger vocabulary or we must look for a word that seems more natural. A long English sentence where predicates are combined with "and" or "or" may seem natural, but appears artificial in a regional language.
Q: Can you tell us anything about yourself and your job that would surprise us:)?
I am a technologist with a background in Electronics and Computer Engineering. I have also published technical papers and books. I have written a technical column called "Janamukhi Tantraloka" for the Kannada daily Vijaya Karnataka.
---
Do join the conversation by leaving your thoughts in the comments section below. You can also reach out to us through our social media channels: Facebook, Twitter and Instagram.
Be the first to comment.
---
Varsha Seshan is a children's writer, author of The Prophecy of Rasphora and The Story-Catcher, among others. She has twice been shortlisted for the Scholastic Asian Book Award, and a collection of her short stories, Dragonflies, Jigsaws and Seashells, was a finalist for the Best Middle-Grade/Young Adult Book at the Singapore Book Awards 2019. She conducts reading and writing workshops for children and adults at schools and libraries. She is also a classical dancer, with over 25 years of training in Bharatanatyam. Varsha has written two storybooks for Pratham Books - Today I Am and What Will Happen?
In this blog post, Varsha writes about a training workshop that she conducted with librarians of municipal schools around Mumbai, and using StoryWeaver to chalk out a library reading programme for these schools.
---
As a British Council trainer, I've conducted numerous reading workshops and facilitated many interactive sessions for theme-based reading challenges. I've worked in schools as well as at the British Library itself, interacting with a range of children, from those who devour books to those who yawn at the sight of a library.
So, when Anubhooti Learning Solutions (then 'Experiential Learning Solutions') asked me whether I would chalk out a reading programme to be administered by librarians at municipal schools in Mumbai and Navi Mumbai, I was interested. The project was a CSR initiative by D-Mart and the crux of the idea was to support a few schools through a library programme.
Excited, I drafted a detailed outline of what we could do. I devised a theme-based approach with detailed assessment criteria, for that was something that the reading programme team felt was crucial. I also worked out the learning outcomes, outline and structure of three training sessions for the librarians. All of them had worked in different capacities earlier and were to be associated with the library space for the first time. The purpose of my training sessions was to introduce them to their role beyond classroom management and discipline, emphasising that inculcating the habit of reading and a love for language is as much a part of a librarian's role as the issue and return of books.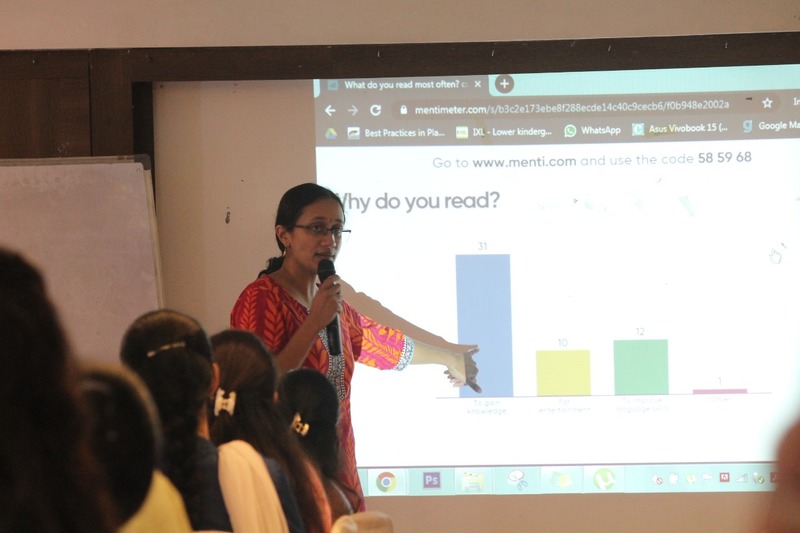 Varsha Seshan conducts a workshop for librarians from municipal schools around Mumbai
Yet, it was only as we launched the programme and began the first workshop that I began to understand how many problems the librarians face. A theme-based programme with assessment criteria was all very well. How would we deal with the other big issues, including the fact that many children did not even attend school regularly? As we went on, there were three problems that I was determined to address through the reading programme:
One, children come from multiple linguistic backgrounds. For instance, in a predominantly Hindi-speaking area, children attend a school where the medium of instruction is Marathi. "In my class of forty, only five children speak Marathi," one librarian said to me.

Two, every class has students with varied reading levels. "The children who have been with us for some time are okay, on the whole, but new children come in all the time. If a child is ten years old, the school administration puts him in class five, even if he has not even learnt the alphabet yet!"

Three, some schools have different languages of instruction running concurrently. "My first period is with Hindi-medium children, then semi-English, then Marathi, then Hindi again. Each week, I have Urdu-medium, English-medium, Hindi-medium and Marathi-medium children coming to the library!"
What could we do? How could we hope to tackle such a wide range of problems?
Additionally, what started as a small group of eleven librarians soon began to grow. This is the third year of my association with Anubhooti and the D-Mart initiative, and we work with 47 librarians: D-Mart now supports 68 schools through its reading programme.
It is at this stage that my use of StoryWeaver in libraries comes in. D-Mart's vision for the reading programme includes providing a minimum of 200 hard copies of Pratham Books in three focus languages (English, Hindi and Marathi) for each library that it supports. Five schools also use StoryWeaver books offline. This was a huge boon to me, for at least I had a starting point. I could access the same story in many languages, and thanks to the Creative Commons licence, I could encourage teachers to work with each story in multiple ways. Teaching requires so many resources that access to free material is invaluable!
Reading Levels
I was first attracted to StoryWeaver by the clear levelling of stories, and so, this was the first thing I introduced to the librarians too. In a single class, librarians deal with students struggling to read the alphabet as well as students who read stories confidently. With such a wide range of readers thrown together in one room, I find it particularly relevant that the reading level of books on StoryWeaver is not clearly linked to an age-group. This is important to me because slow learners are often targets for bullies. Reading a "kiddish" book, marketed as one for younger readers, leads to the shaming of slow learners, and a simple indication of reading level rather than age is an important step towards addressing (though not solving) this problem.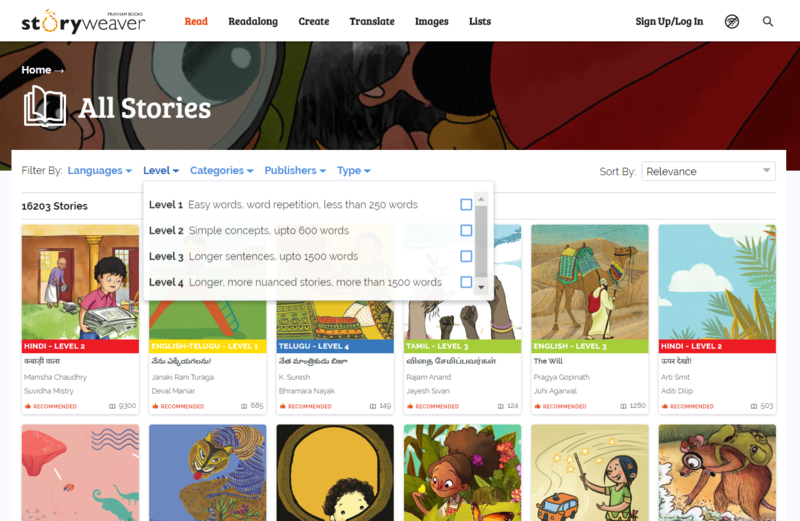 StoryWeaver has over 16,000 storybooks that are classified into four levels based on a child's reading level.
The first time we used StoryWeaver, we worked with three stories I love – I Am Not Afraid, Ammachi's Amazing Machines and Farida Plans a Feast. We read each story many times, in three languages. Bilingual books are particularly wonderful in the context of this reading programme, for when a child is required to read in one language, even though s/he is more comfortable in another language, having both on the same page is a great aid to reading comprehension. All of us loved the simplicity and artwork of I Am Not Afraid. It allowed us to explore and enjoy the story without being daunted by complexity of narrative and vocabulary.
The main activity we engaged in after reading the books was to create simple stories of our own. Inspired by the sweet simplicity of I Am Not Afraid, librarians created wonderful picture books about conquering fear. This was just the first step because they took the idea back to their libraries and asked children to make books of their own. This was a huge boost to the reading programme, as it encouraged children to read more and write more. The most wonderful outcome was that even if they read nothing else, children wanted to read what their friends had created. An added bonus was that there were suddenly many more books in the school library!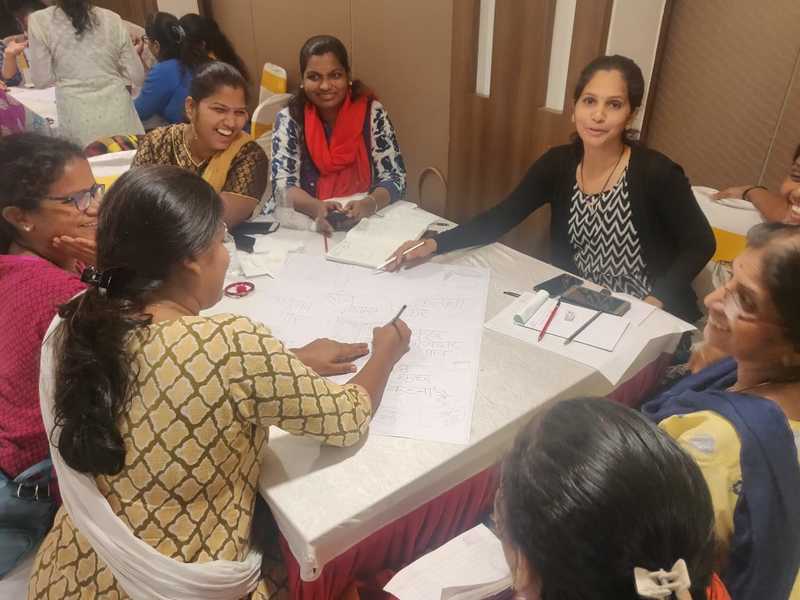 Librarians work on activities as part of the workshop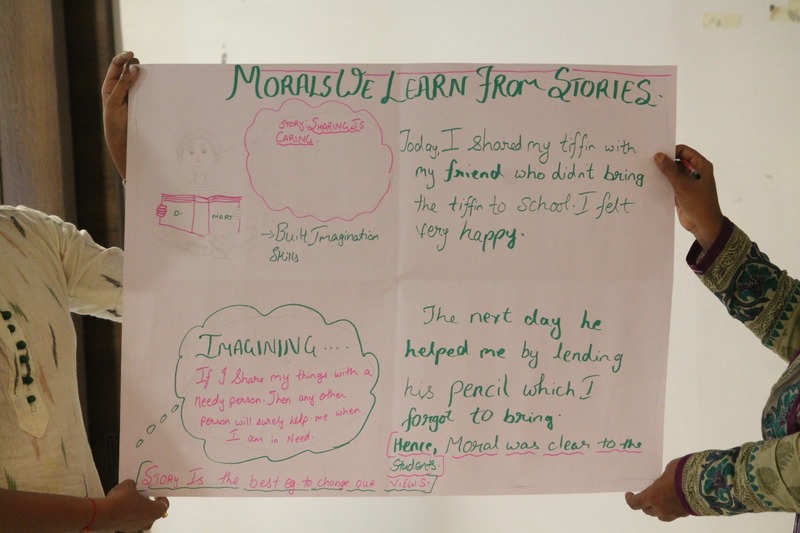 Librarians at the workshop prepare a chart on morals learnt from stories.
Wordless Picture Books
Wordless picture books are all kinds of lovely. We "read" the charming I Can Dress Myself! and then looked at how to work on language skills using a book that is written in none of the focus languages. Beginning with simple questions and answers – giving the girl a name and naming all the pieces of furniture in the room – we went on to a storytelling session, where the pictures in the book became visual aids.
Next, to continue our exploration of the use of StoryWeaver without language, I showed the participants Deepa Balsavar's vibrant picture of a busy market. With so much happening in a single image, the librarians could explore a range of vocabulary. Consequently, they came up with various ideas of how they could use pictures in class to increase attention and concentration. We discovered that wordless picture books and the visual treat of any detailed image would include both children with very low language proficiency and confident readers who want something new.
Lists
The lists on StoryWeaver allowed me to modify the reading programme in the third year, making the entire programme much more accessible. In the first year, the feedback I received from the librarians indicated that a huge majority of older students did not want to read fiction. Working with non-fiction and stories that clearly reflect the world we see around us thus became important to the reading programme as we moved forward.
And so, for the third year, I chose to begin with three themes – Environment, Science and Technology, and Mathematics.
For the first theme, we read What's Neema Eating Today? in English, and A Cloud of Trash and Anand in Marathi. Once we had read all three stories, it was time for our next activity.
In groups, the librarians chose a story to work with and present in a novel way. Some took the story further, imagining what would happen next. Others analysed the story in different ways, changing the setting to their own schools. Soon, through skits and quizzes, we had Chhakuli (the lead character in the Marathi translation of A Cloud of Trash) sorting out the garbage problem in a neighbouring village. We had Anand talking to his friends about taking pride in his work, and about there being no shame in working as a rag-picker. We had questions and answers about character motivation and themes. We discussed segregation of garbage and the role each of us must play in the process.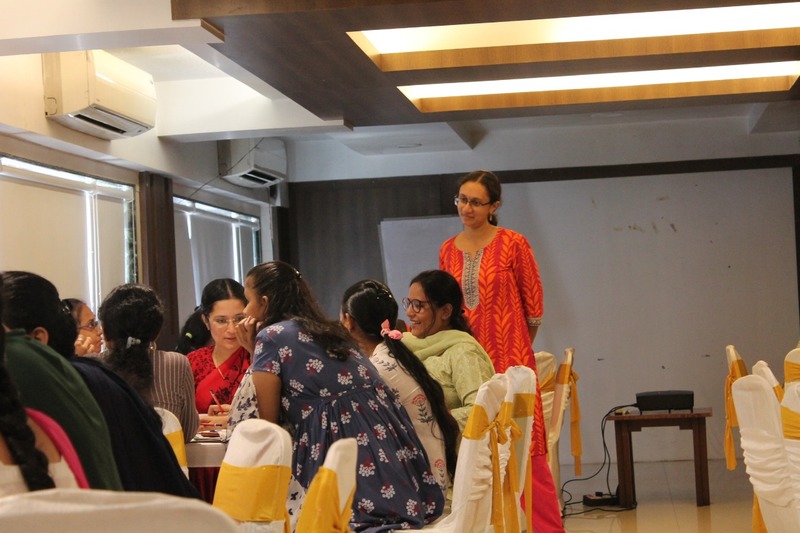 Varsha Seshan watches the prep for a play based on the book 'A Cloud of Trash'
For Mathematics, we read It's a Laddoo Party! enjoying the repetition and humour in the tale. Working with maths stories was an intriguing idea for many, one that they could not wait to take to their classrooms.
As a quick recall activity for vocabulary, we also played a ballgame. When a ball is thrown to a participant, s/he must quickly say a word that is clearly related to one of the four stories we read. So we remembered what Neema ate, recalled characters like Peter Uncle and Mihir, and discussed seasons of the year.
What happens next?
While I work with only the librarians, the proof of the pudding is, of course, in the eating. As the librarians do not have easy access to audio-visual equipment, working with StoryWeaver remains, for the moment, limited to schools that have computer labs with books downloaded on the systems. Children read independently – either using StoryWeaver offline or hard copies of books in the library. Eventually, I hope that infrastructural changes will allow librarians to use StoryWeaver to the fullest, including the Readalong feature and YouTube channel.
Yet, exposure to all this material has ensured multiple gains. For one, the librarians themselves have begun to read. Their purpose is clear: using stories actively in the library so as to move beyond the rather monotonous role of distributing and collecting books. Secondly, a theme-based approach allows them to look at books in their collections in a new light and create new books that then encourage reluctant readers. Thirdly, access to the same book in all three languages makes the act of reading less daunting, especially when it comes to reading in a language that is not one's mother tongue or first language.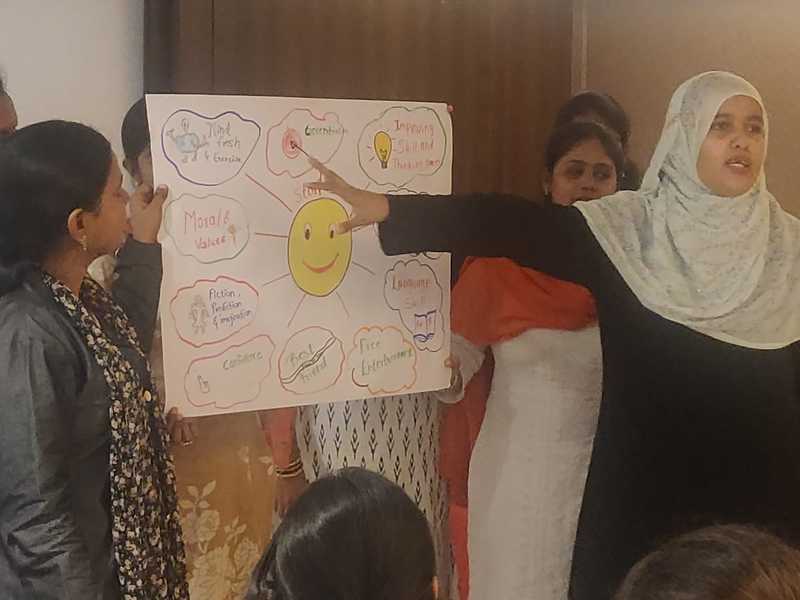 Librarians create charts based on stories discussed at the workshop.
And finally, feedback from the reading programme team at D-Mart is promising. Librarians and programme managers assure me that children now enjoy the books tremendously, and isn't that the greatest victory of all?
---
Do join the conversation by leaving your thoughts in the comments section below! You can also reach out to us through our social media channels: Facebook, Twitter and Instagram.
Be the first to comment.
---
Jala is a translation platform that combines human skill with translation technology to make high quality translations accessible to those who need it the most. It collaborates with organisations, communities and individuals to help bridge the language barriers and increase access.
Earlier this year, Jala teamed up with StoryWeaver to help build a high quality repository of openly licensed storybooks in Chinese and Bahasa Indonesia. To get some insight into the translation process, they interviewed Sophia, a Jala user and hobbyist/ freelance translator, who translated five stories on StoryWeaver from English into Bahasa Indonesia. You can read an excerpt from the interview below.
---
Sophia, who translated storybooks from English to Bahasa Indonesia.
Hi Sophia! Thanks for being such an active user on Jala! Can you tell us a little about why you decided to translate the StoryWeaver books?
Hello! It was my pleasure. Well, firstly a little background about me. Bahasa Indonesia is my native language, but I moved to Singapore at the age of 15, and then later moved to the UK. So English has been the language I have spoken more actively. But ever since I started working in the publishing industry and have focussed on developing Singaporean content for Singapore, I began to miss home, and I began thinking about reconnecting with Indonesia. I feel a little like an outsider to Indonesia now, and I was not sure how I could help local readers in Indonesia. So when the opportunity to translate children's books on Jala into Bahasa Indonesia came along, I was quite excited by the idea! It felt quite perfect. While my Indonesian language abilities have withered a little, mainly due to lack of practice, I felt that working on translation really helped to revive my language skills! Translating children's stories had its own challenges for me. For example, word choice, which had to be suitable. I had to be sensitive about how an Indonesian child would understand the words I had chosen. It made for an interesting puzzle for me!
That's great. What did you like most about the stories that you translated?
Like any children's book, there was a nice rhythm to the stories. There were moments when I felt that the words in English had a rhythm, which I tried to capture in my translation. Knowing the natural rhythm of the book, I tried to ensure my translation stayed true to the original in terms of sentence length and word choice.
I liked that the stories were upbeat and (mostly) positive. For example, in Fati and the Honey Tree, even though the girl (Fati) fell down and hurt herself, there was still a positive message at the end. I also enjoyed the unique settings for the stories, everything from the environment to the characters and how they interacted with their surroundings.
Fati and The Honey Tree
The Indian and Ghanian cultures were very refreshing to me, and something I feel that is lacking in publishing, as most settings are very Western-centric. Finally, I liked how each story teaches something. For Let's Play, it was science, through the introduction of simple concepts in a child's everyday world.
This is really great to hear! What was the translation process like for you?
I was very methodical in my translation process, after the first one, I actually figured out what worked best for me and then came up with my own methodology which I actually have written down on my phone!
To start off I usually skim the original text first. I then proceed to do the translation line by line on Jala. I go through it once and have a first draft ready. I then go through both the original and the translation, by carefully comparing the two, and making any corrections along the way. I then read through just the translation to see how it flows and if I'm comfortable with it on its own. When I'm happy with what I have, I leave it for a day and then come back and read the translation again and do a final comparison with the original before submitting the piece. I like how Jala will always save my work, and I know that my progress will be safe until the next time I revisit the project!
Stories on the Jala platform
Of all the translations that you worked on, which was your favourite story to translate, and why?
I liked Fati and the Soup Pot the best.
Fati and The Soup Pot
Fati's attitude was really funny in the story. I also liked how despite the fact that Fati's mother knew that Fati had done wrong, she did not punish or scold Fati in the way you would expect parents to. In addition, I felt that the description of the cooking process and the listing of ingredients was a nice touch! If you are curious enough, you could attempt to recreate the dish! It also really liked that the child was involved in the cooking process!
What do you enjoy about freelance translation?
I think what I find most appealing is the extra income. But I also do believe there is a more interesting aspect to freelance translation. For instance, gaps in languages can be filled by multilingual individuals or translators. Being able to help and contribute to a specific skill is really interesting! I also think it's a really great cycle, the more you do, the more interested you are, and the more that you learn! For example, when there are natural disasters, you see NGOs making open (and urgent) calls for translators for a specific language. Often, contributions can be through knowledge instead of money or goods, which is so meaningful when you are filling a gap. Even in non-dire circumstances, I believe that translators can make a difference.
---
To read the original interview, click here.
You can read the stories translated by the Jala Community on StoryWeaver here.
Please join the conversation by leaving your thoughts in the comments section below. You can also reach out to us through our social media channels: Facebook, Twitter and Instagram.
Be the first to comment.
---