Written by Amna Singh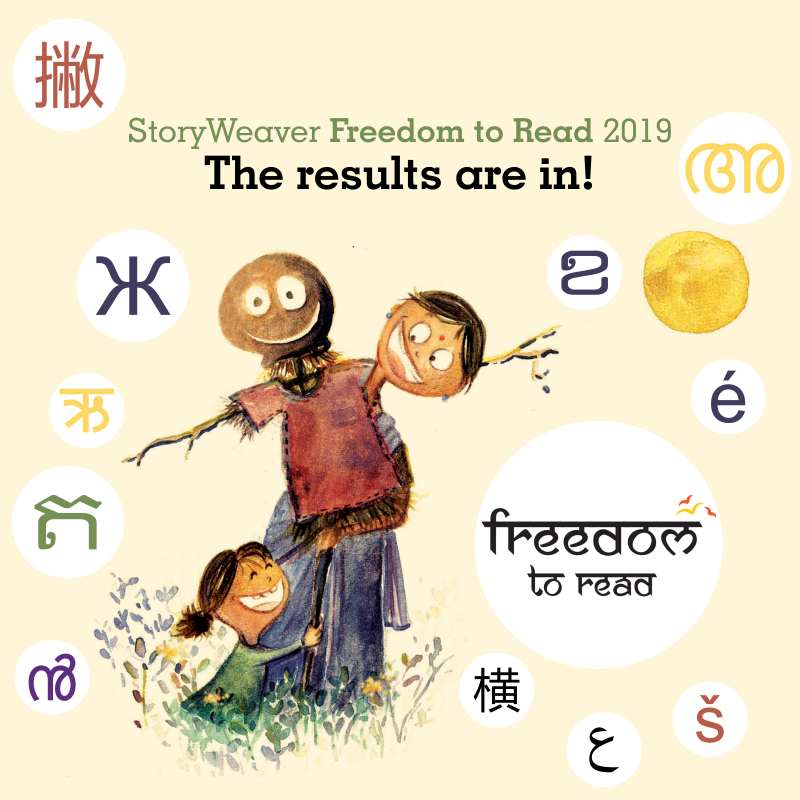 StoryWeaver believes that every child deserves to have access to joyful reading material in her mother tongue. In November 2018, we opened applications to educators, translators, literacy organisations, and everyone else working with children to promote reading -- in our quest for partners to help build a 100 local language libraries of children's books in underserved languages by International Mother Language Day on February 21, 2019 .
We were seeking partners with relevance of work and expertise in language and translations, and above all, a shared vision of equity in access for all. We got over 225 applications from all over the globe – each application inspiring us with their exemplar work in the field of literacy and language for the under-represented communities.
Based on our guidelines, relevance of work and a rigorous evaluation, we have selected 16 organisations and 28 individual language champions to partner with us to build these digital local libraries.
Selected Organisations: Target Languages
Azad India Foundation: Surjapuri

BookDash: 11 official South African languages

SNS Foundation: Marwari

CODE- Ethiopia: Amharic, Afaan Oromoo

African Library and Information Associations and Institutions (AfLIA): Igbo, Hausa, Fante, Ewe, Yoruba, Kikiyu, Luganda and Swahili

Global Forum 4 Literacy: Zulu, Afrikaans, Xhosa, Tswana and Arabic

Suchana Uttor Chandipur Community Society: Santali, Kora, Bilinguals

Aripana Foundation: Maithili

Little Readers' Nook: Tulu, Kutchi, Marwari …

Unnati Institute for Social and Educational Change: Korku

North East Educational Trust: Assamese, Bodo

Brightstart Pre Primary school and Learning Centre : Marwari

Libreo.ph: Tagalog, Cebuano, Hiligaynon, Tausug/Maranao and Ilokano

Darakht-e Danesh Library: Pashto

Every English: Brazilian Portuguese

REHMA: English-Urdu bilinguals
The selected language champions will help build local libraries across 24 languages.
Target Languages: Selected Language Champions:
Amharic: Kaleab

Bambara: Kirsty Paxton

Basa Jawa (Javanese): Maharani Aulia

Bundelkhandi: Ankit Dwivedi, Krishna Murary Upadhyay

Chinyanja: Agnes Nankhoma Singine Nyendwa

Dari: Aisha

Filipino: Kaye

Garhwali: Shweta Rawat

GSB Konkani: Sujith Kamath

Kirundi: Melchiade Ntibazonkiza, Adolphe Ndagijimana

Kui: Shruti

Kumaoni: Somya Budhori , Richa Pathak Pant,

Kuvi/Jatapu: Markose K C

Malay: David Loiuson

Malvani: Rupali Bodekar

Malvi: Omprakash Kshatriya

Ndebele: Ntando Titus Ntaka

Pawari: Amit Dudave

Pashto: Nighat Kamdar

Sanskrit: Meenakshi Sundaram K B, Priya Bhakthan

Serbian: Ana Jovic

Sindhi (Devanagari Script): Bharti

Sindhi (Arabic Script): Zaib-un-Nisa

Vietnamese: Nguyen Dac Thai Hang
Thank you for your initiative, we will get in touch with all selected partners for the next steps.
And a BIG thank you to everyone who applied. StoryWeaver is truly a result of your constant support, and contributions. We will do our best to reach out to you and explore alternate ways to collaborate. Thank you, again, and happy holidays!
Be the first to comment.
---
Pratham Books is a not-for-profit children's book publisher that was set up in 2004 to publish good quality, affordable books in many Indian languages. Our mission is to see 'a book in every child's hand' and we have spread the joy of reading to millions of children in India. As a publisher serving every child in India, Pratham Books has always pushed the boundaries when it comes to exploring innovative ways in which to create access to joyful stories and have been fortunate in finding partners to collaborate with who share this vision.

In 2015, Pratham Books' increased its footprint by going digital. As an industry leader, we were one of the first publishers in the country to open license our content. All this content is now available on StoryWeaver, which is a digital platform that hosts stories in languages from India and beyond, so that every child can have an endless stream of stories in her mother tongue to read and enjoy. The stories can be read, translated, versioned or downloaded for free. All stories on the platform are openly licensed.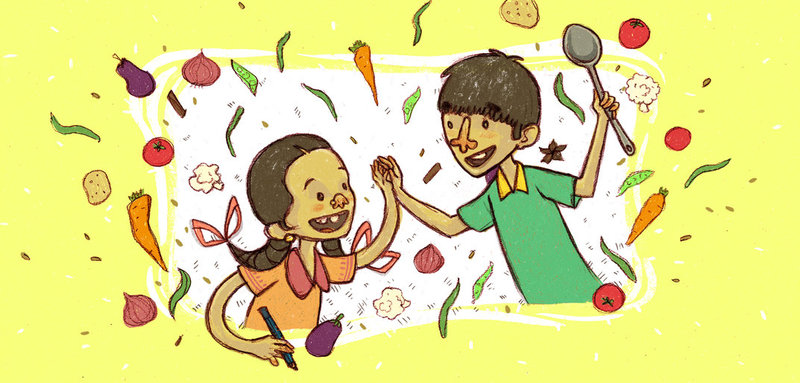 Illustration by Kabini Amin from Dum Dum-a-Dum Biryani by Gayathri Tirthapura
We are looking for an Assistant Project Manager - Storyweaver
This position will work closely with the StoryWeaver content team to support the expansion of StoryWeaver's global language content footprint. The role would involve identifying and nurturing partner relationships for content in languages, supporting core team to maximise partner engagement and support reporting and documentation. Must be someone who has the ability to network and make connections and is up to date with tech and social media trends. They also need to build strong relationships remotely. As nurturing language communities is a key focus area, a love for languages will help in bringing passion and commitment.
Key Responsibilities
Project level support and coordination across various stakeholders to ensure timely completion of project deliverables.
Identify and nurture partnership networks for language content.
Support the core team in follow up on contracts, reporting, documentation and campaign processes.
Support and facilitate translation workshops for scaling quality language resources on the platform.
Work closely with the internal teams to implement StoryWeaver's language goals.
Help with research and documentation for impact assessment from content partner orgs.
Contribute new ideas for both the function and platform.
Support platform feature enhancements through testing.
Required skills
Proven experience as a Project manager
Ability to network and make connections
Excellent organization skills
Familiar with latest technology, trends in Social Media.
Excellent communication skills in English and any other Indian language
Willingness to travel to all project locations
1-2 years of experience
Nice to have but not mandatory:
Interest in languages, communities, books and education
Social sector experience
Fluency in the 2-3 languages
Location:
This is a full-time position based out of Bangalore
Compensation:
Salary will be commensurate with qualification and experience.
Write to us:
Email your resume with Assistant Project Manager- Storyweaver in the subject line to [email protected]
Be the first to comment.
---
The excitement on the day of any StoryWeaver workshop is often mixed with some nervousness. We meet so many new people from different organisations and always want them to share the excitement we feel about books in classrooms! We wonder if the participants would connect with what we have to say and how they will react. This nervousness gets magnified when the workshop is in an all new city.
Thankfully, our wonderful community never disappoints :) Here's an account of our last two workshops in the beautiful cities of Jaipur and Hyderabad.
We were in Jaipur during the first week of October to host a StoryWeaver workshop with educators and resource leads of various education organisations. The workshop was our first in the city and was organised with the support of Jawahar Kala Kendra (JKK). They gave us access to their stunning centre and their library -- forming the perfect venue for a workshop on the importance of reading.
We had representatives from 18 organisations across Rajasthan attending the workshop, including UNICEF, Educate Girls, OELP, Doosa Dashak and GoodWeave India. It was wonderful to host participants who had travelled from as far as Jodhpur and Bikaner. As the session progressed, we deep dived into the intriguing world of stories and explored how stories open a child's eyes to a world filled with joy and learning.
The participants tried their hand at StoryWeaver and chose themes that they found most interesting and explored the platform for stories around them.
One of the most lively discussions was around how different kinds of books can be used with children across various age groups. One participant raised a pertinent point about the need for books in tough subjects like bullying, migration, and hunger. They also enjoyed putting on their writer's hats and created some lovely stories on the platform.
At the end of the workshop, one of the teachers, who had come from faraway Jodhpur, told us that this was the first workshop she and her colleagues had ever attended outside their centres. This statement demonstrated the enormous responsibility that rests on us - to ensure our workshops stay relevant and productive for our teachers and educators who travel great distances putting their work and home on hold to attend our workshops.

After our first StoryWeaver workshop in Jaipur, we organised our next in the familiar city of Hyderabad. With the support of Dr. Reddy's Foundation, the workshop saw participants from various organisations like AIF, Youth4Jobs and Youngistaan Foundation.
To celebrate the diversity of languages we have, we had a resource person, Haripriya, help us conduct some parts of the workshop in Telugu. Haripriya runs a gorgeous children's library in Hyderabad and was a participant in our last Hyderabad workshop. Her presence not only encouraged participants to share their thoughts in Telugu, she also helped us showcase our best Telugu books.
"I thoroughly enjoyed facilitating the workshop in my mother tongue, Telugu. I had a memorable time sharing and learning from educators from different organisations who came together to understand how best they can make use of the platform in their classrooms. Together we read, created, translated books in English, Hindi and Telugu," she remarked after the workshop.
Our team and the participants agreed that the lunch organised by Dr. Reddy's Foundation was one of the most delicious meals we had had in a long time. Maddirala Sai Praveen from Azim Premji Foundation, a participant who has experience working with young children in anganwadi centres, volunteered to conduct an energiser post the hearty meal. That got all of us all laughing! The youngest participant of the workshop was the eight year-old daughter of a teacher in attendance and we have to say she was the most energetic of the lot!
As the year comes to a close, we would like to thank all our wonderful participants who make these workshops an amazing learning experience for us. We are also grateful to our new and potential partners, and friends of Pratham Books like Jawahar Kala Kendra and Dr. Reddy's Foundation for their constant support.
Here is wishing our readers a Happy New 'Reading' Year for 2019.
If you are interested in hosting a similar workshop for your organisation, drop us an email on [email protected]
Be the first to comment.
---