At StoryWeaver, we believe that all children, everywhere, should have access to a never ending stream of stories in their mother tongue. If you are a language department head or professor at your University, then do consider signing up your class for our new translation campaign.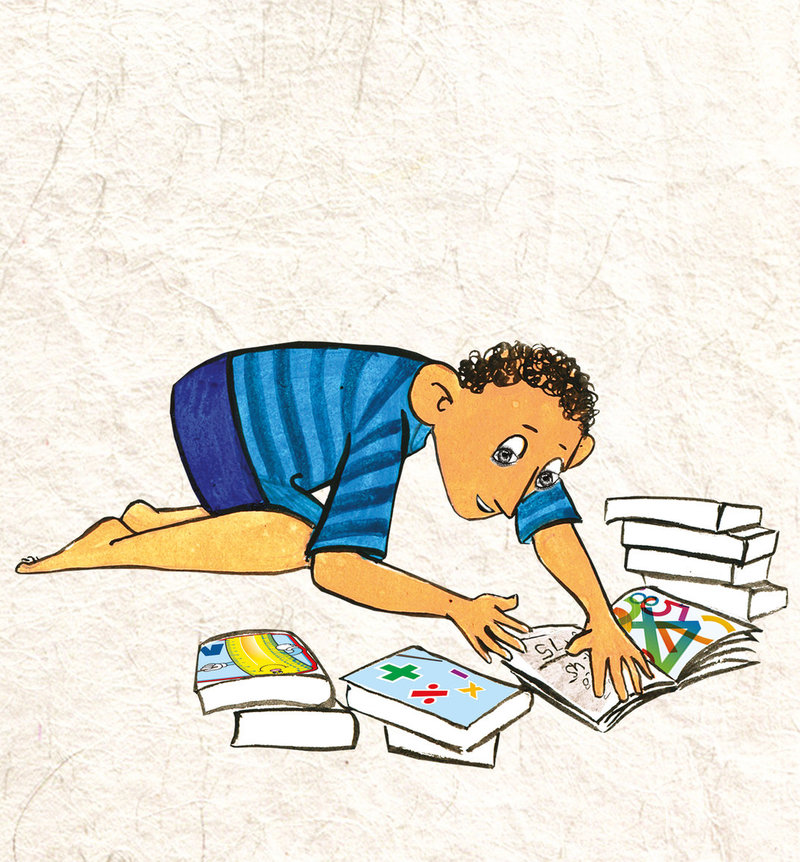 We are looking for student volunteers to help us translate stories to a language they are learning on StoryWeaver. Students can be assigned stories, which you, their professor reviewing their work before publishing. This can be an excellent project students can sign up to improve their language skills while contributing to a growing pool of openly licensed multilingual stories for children to practice and improve their reading skills.
This model has been highly successful with some of our other partners like the Ugandan Christian University (UCU). As a part of the UCU Community Service Project: 'Creative Writing, Translation and Publishing for Children' in the Department of Languages and Literature, 50 stories have been translated to Ugandan languages to supplement early literacy initiatives.The project seeks to make mother tongue reading material accessible to children of the local communities in Uganda through the UCU campuses and colleges.
StoryWeaver
StoryWeaver is India's first open source, digital repository of multilingual children's books from Pratham Books, a non-profit children's book publisher. Pratham Books has a mission is to see 'a book in every child's hand' and was founded to address the lack of high quality, affordable, multilingual books in India. We realised that to even begin satisfying the reading needs of a multilingual country such as India, and create equitable access to books for all children we would need to massively scale the creation and distribution of multilingual content. The answer, we believed lay in technology and the power of open licensing.
StoryWeaver offers educators, non-profits, language champions and book lovers across the world access to over 5000 stories in 100 languages. All these stories are free to read, download, print and share for free, as they are openly licensed under CC-BY 4.0, one of the most liberal Creative Commons licenses. StoryWeaver is accessed from a 350,000 plus (and growing!) strong community from over 180 countries around the world. Stories on the platform have collectively been read (both online and offline) 2 million times.
To sign up your department click here, and help us create more stories in more languages for more children.
Be the first to comment.
---
This year, we'll be taking some of our authors and illustrators to classrooms and reading centres around the country. These are authors and illustrators who have contributed to the digital-first, STEM books that have been developed with support from Oracle. We're organizing these mini-events in association with our outreach partners. Pratham Books is eager to create more opportunities for our contributors to interact with young readers from across India, and this seems like a great start!
Neema (aka Bijal, our editor) and Cheekoo (aka Karanjeet Kaur, our author) trudged up to the Tamarind Tree School, Dahanu on a very rainy day for story sessions with the kids. Here is that story...
The Tamarind Tree School is an experiment in trying to bring in much needed equity in the education domain through open-source. The aim is to open up the world for the first generation learners of the tribal communities of Dahanu through a learner driven environment using the pedagogy of activity based learning. The school, in its 7th year of operation, has 150 students (90% belong to tribal villages in the neighbourhood) where technology is used extensively with the educators supplementing conversations around learning.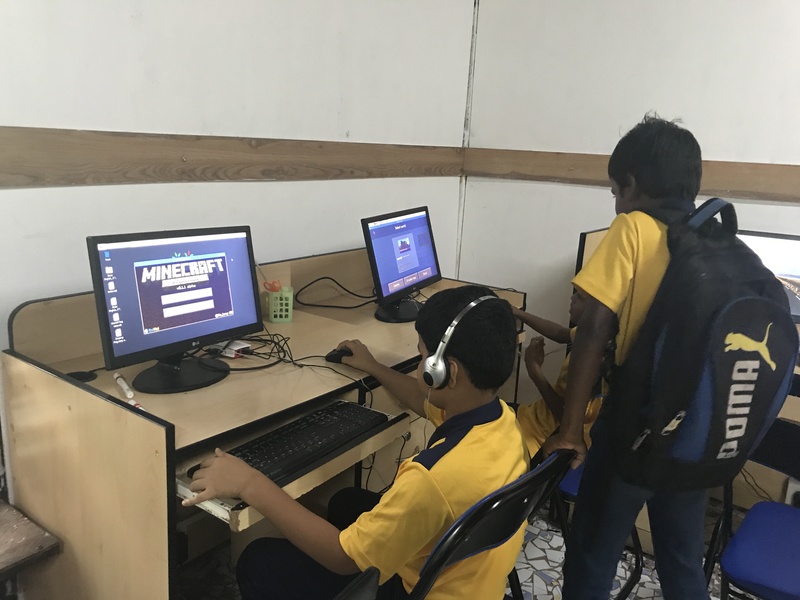 The biggest impediment in this endeavour is not a physical one. It is the long history and the weight of oppression borne silently by these tribal communities. This effort to draw them out into the light is an exercise that needs to be handled with utmost empathy.
Our sessions:
Neema was welcomed with open arms as courses on food, seasonality and bio-diversity are an important part of the syllabus here. The teachers put up a play at the school assembly on the advantages of eating with the seasons. This set the tempo for all the learning conversations to follow. Bijal's story sessions with Grade 3, 5 and 6 students included everyone talking about their favourite and least liked veggies and fruits, the Warli names of what Neema likes to eat, an informal quiz of what grew when & why..and a formal quiz at the end of the session with a video of Sam (an educator at Tamarind Tree) on how he has finally understood why his mother always stressed the need to eat the fruits and vegetables available in the season. The kids plan to make their own Dahanu seasonal calendar with Sam!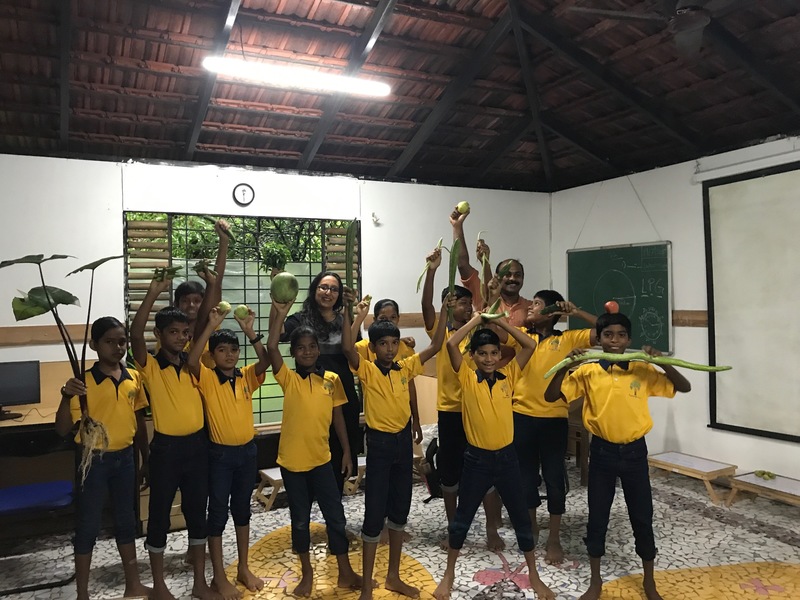 In the assembly, the teachers introduced three new words to the kids - 'trash, biodegradable and recycle' through a play. And then Karanjeet went on to narrate the story of naughty Cheekoo learning a lesson in cleanliness and social responsibility. The key conversation to emerge from these sessions was one where the Grade 7 students of Tamarind Tree School have now decided to embark on a 4 day clean-up drive of their neighbouring pada within Sogve village. The recce and pre-planning for this initiative are on as we type this up:)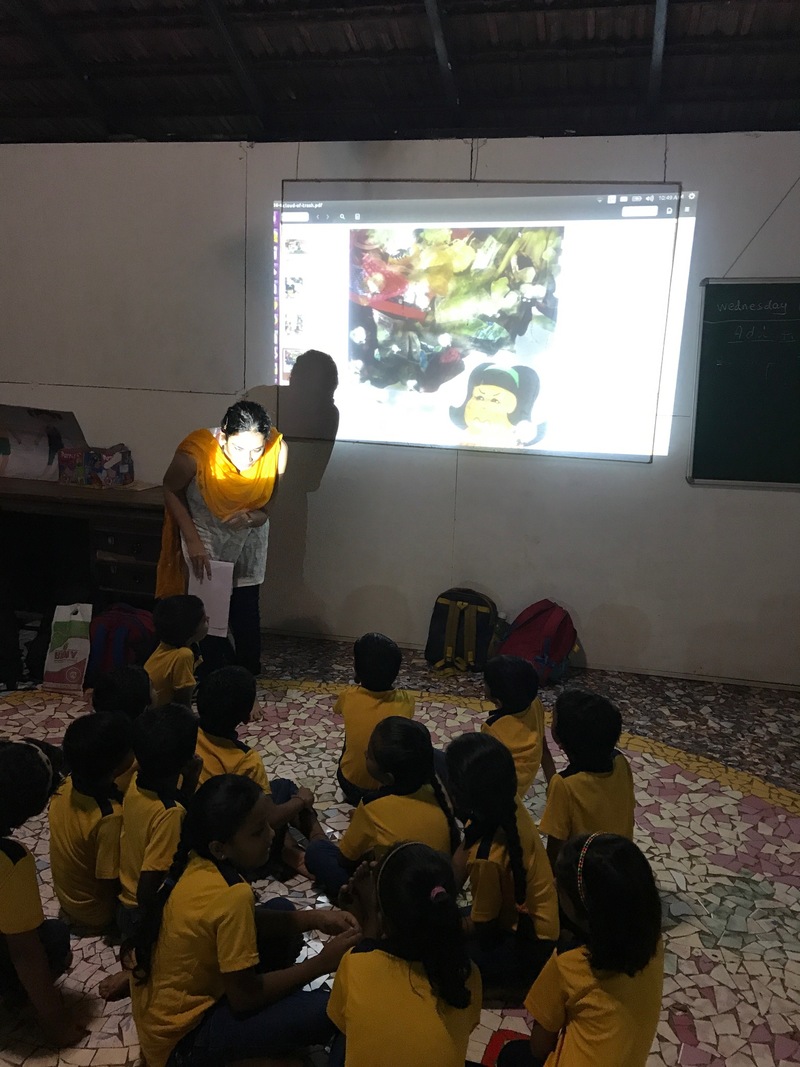 And some other stuff we just have to share:
It was a wet week in Mumbai and Dahanu was green, silent and gorgeous. Brown chikkos hung low outside our classroom window as we sat chatting about our Cheekoo and her story:)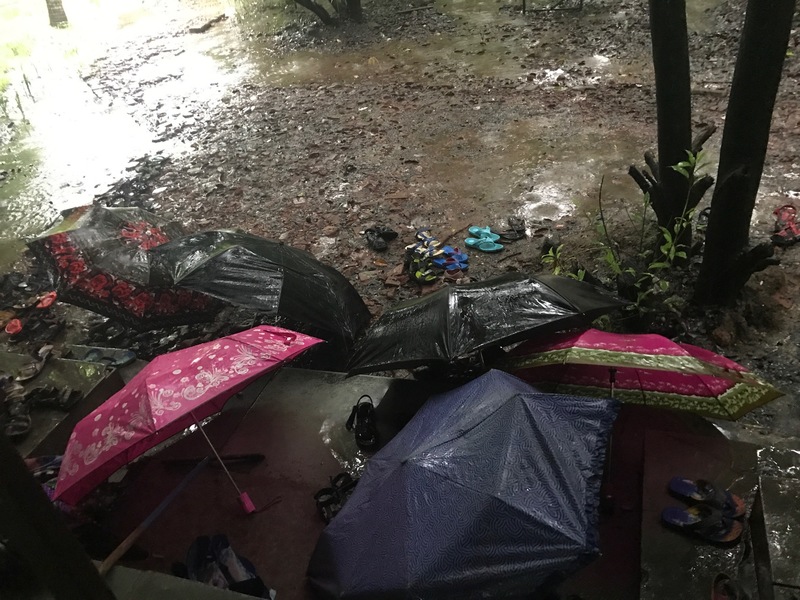 The cafeteria is a very important learning space. The students read-aloud the lunch menu, make a note of the displayed array of raw materials for cooking the day's fare, comment (preferably in long sentences) on what they thought of the meal and then help with the clean-up.
The food was yum. And we were CHOMP! CHOMP!ing, MMM…MMMing just like Neema.
Signing off with one of our favourite pics...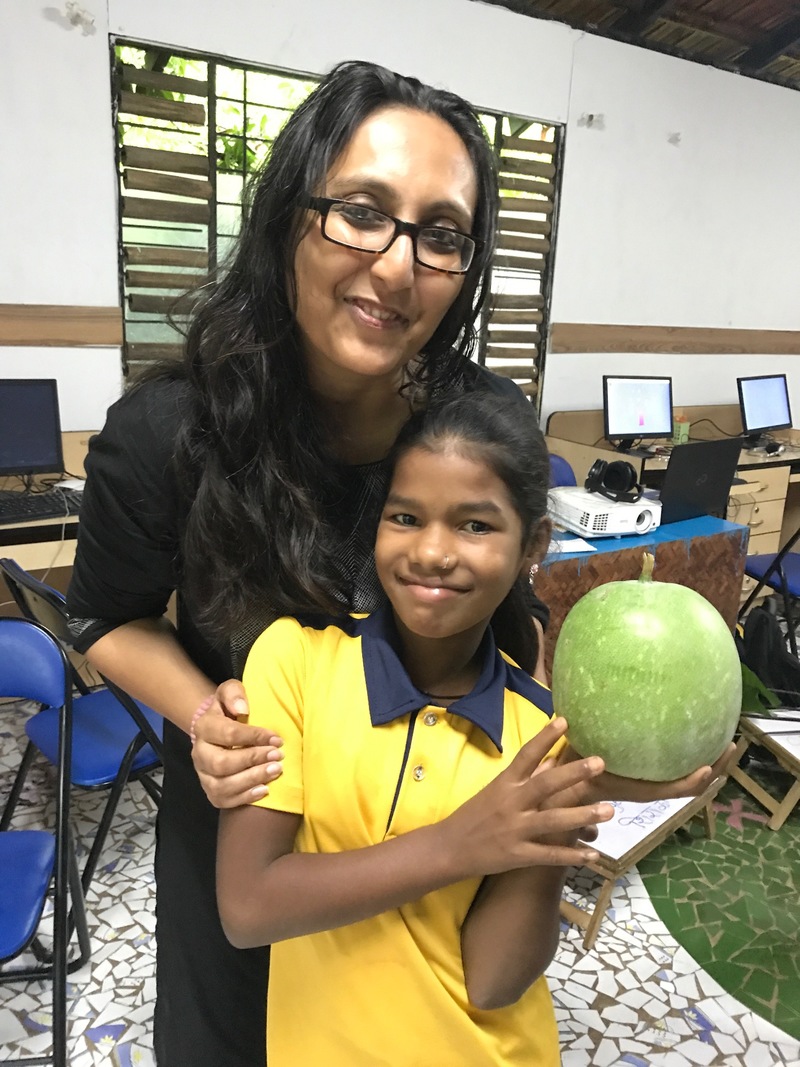 You can read What's Neema Eating Today and A Cloud of Trash in 5 languages on StoryWeaver.
The development of these books and the outreach session mentioned in this blogpost have been supported by Oracle.
Be the first to comment.
---
Aparna Kapur, Assistant Editor, Pratham Books recalls our recent writing workshop with conservationists and research scholars at the Nature Conservation Foundation, India.
I'm less than two months old in Pratham Books and have heard all about the various writing, translating, outreach workshops conducted by the team. So when I was asked if I wanted to tag along to a workshop about making Level 1 and Level 2 picture books, I was keen to observe and said yes immediately. Of course, the luxury of silent observing was not given to me and I was assigned an activity to conduct. Trying to create an illusion of choice, I happily agreed.
The workshop was being conducted for the members of the Nature Conservation Foundation. The NCF office is located on a quiet street that's lined with trees, and when we walked in we were immediately met with the bustle of breakfast time. We were then ushered into a room, which would soon contain eleven workshop participants and four workshop conductors. Once we figured out the logistics of seating (the view was beautiful but the room was snug) and the mechanics of projecting (acquiring the right wire), we were ready!
As way of introduction, we went around the room telling everyone who our favourite children's book character is, which is how I think we all should introduce ourselves from now on.
Then we talked about Pratham Books and picture books, and read out some titles from StoryWeaver. This was followed by a quick tour of the StoryWeaver website where we showed them how to browse the site, search for images and create books. The NCF folk were involved and enthusiastic.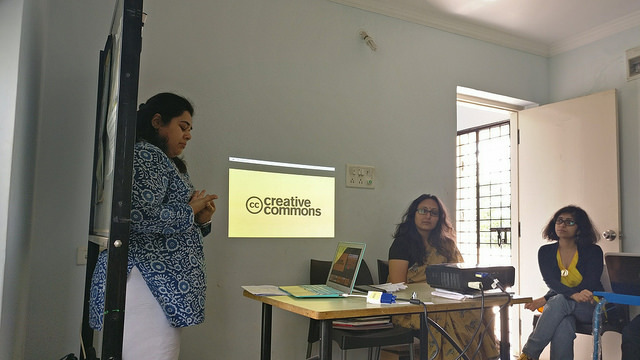 This was followed by a coffee break where everyone got to enjoy the generous collection of picture books that Bijal Vachharajani, Consultant Editor, Pratham Books had brought along. After coffee, we divided the eleven of them into groups for the first activity. Each group was given a list of rules for making a picture book, and had to arrange them in the order they considered most important. This led to some fascinating debates about the balance of text and images, the necessity of morals and optimism, and the need for rhythm and rhyme.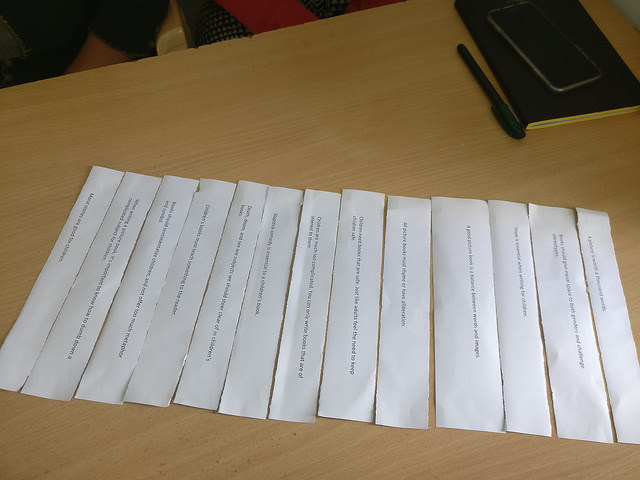 After that we told the groups to come up with a simple story based on eight random pictures. We had delightedly strung an outlandish sequence of pictures the previous day, and this served as their framework. Each time we moved to the next picture, the teams let out a groan and we smiled in (evil) satisfaction. The three stories we got at the end of it, however, were amusing and coherent. That's when I realised that each of these eleven people had a knack for storytelling!
My realisation was confirmed when we they began to think of ideas. Considering their work, we did expect interesting environmental themes. But we were an excited group of editors when their pitches included carnivorous plants, geckos, and misunderstood wolves!
After a well-earned lunch, we all went back to work. And by all, I mean the NCF people worked on the drafts of their stories while we sat like invigilators, reading their drafts and occasionally helping them find their way out of tricky spots in their manuscripts.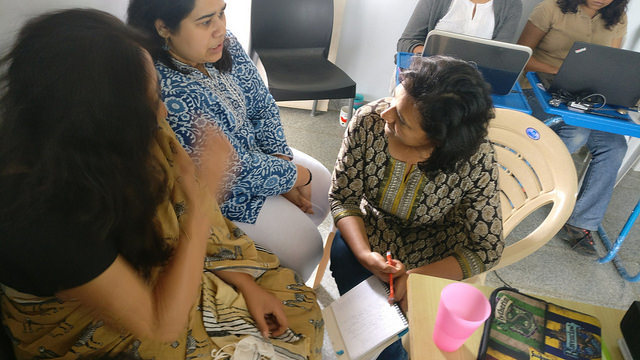 Finally, everyone read out their stories. Some employees who were not attending the workshop had given us explicit instructions to invite them for the idea-sharing and storytelling part of the workshop. They ended up being a participative and enthusiastic audience. We trust that this workshop gave the NCF team a foundation on which they will go on to write many many picture books. In return they gave us some fantastic ideas and superb stories!
Be the first to comment.
---