The excitement on the day of any StoryWeaver workshop is often mixed with some nervousness. We meet so many new people from different organisations and always want them to share the excitement we feel about books in classrooms! We wonder if the participants would connect with what we have to say and how they will react. This nervousness gets magnified when the workshop is in an all new city.
Thankfully, our wonderful community never disappoints :) Here's an account of our last two workshops in the beautiful cities of Jaipur and Hyderabad.
We were in Jaipur during the first week of October to host a StoryWeaver workshop with educators and resource leads of various education organisations. The workshop was our first in the city and was organised with the support of Jawahar Kala Kendra (JKK). They gave us access to their stunning centre and their library -- forming the perfect venue for a workshop on the importance of reading.
We had representatives from 18 organisations across Rajasthan attending the workshop, including UNICEF, Educate Girls, OELP, Doosa Dashak and GoodWeave India. It was wonderful to host participants who had travelled from as far as Jodhpur and Bikaner. As the session progressed, we deep dived into the intriguing world of stories and explored how stories open a child's eyes to a world filled with joy and learning.
The participants tried their hand at StoryWeaver and chose themes that they found most interesting and explored the platform for stories around them.
One of the most lively discussions was around how different kinds of books can be used with children across various age groups. One participant raised a pertinent point about the need for books in tough subjects like bullying, migration, and hunger. They also enjoyed putting on their writer's hats and created some lovely stories on the platform.
At the end of the workshop, one of the teachers, who had come from faraway Jodhpur, told us that this was the first workshop she and her colleagues had ever attended outside their centres. This statement demonstrated the enormous responsibility that rests on us - to ensure our workshops stay relevant and productive for our teachers and educators who travel great distances putting their work and home on hold to attend our workshops.

After our first StoryWeaver workshop in Jaipur, we organised our next in the familiar city of Hyderabad. With the support of Dr. Reddy's Foundation, the workshop saw participants from various organisations like AIF, Youth4Jobs and Youngistaan Foundation.
To celebrate the diversity of languages we have, we had a resource person, Haripriya, help us conduct some parts of the workshop in Telugu. Haripriya runs a gorgeous children's library in Hyderabad and was a participant in our last Hyderabad workshop. Her presence not only encouraged participants to share their thoughts in Telugu, she also helped us showcase our best Telugu books.
"I thoroughly enjoyed facilitating the workshop in my mother tongue, Telugu. I had a memorable time sharing and learning from educators from different organisations who came together to understand how best they can make use of the platform in their classrooms. Together we read, created, translated books in English, Hindi and Telugu," she remarked after the workshop.
Our team and the participants agreed that the lunch organised by Dr. Reddy's Foundation was one of the most delicious meals we had had in a long time. Maddirala Sai Praveen from Azim Premji Foundation, a participant who has experience working with young children in anganwadi centres, volunteered to conduct an energiser post the hearty meal. That got all of us all laughing! The youngest participant of the workshop was the eight year-old daughter of a teacher in attendance and we have to say she was the most energetic of the lot!
As the year comes to a close, we would like to thank all our wonderful participants who make these workshops an amazing learning experience for us. We are also grateful to our new and potential partners, and friends of Pratham Books like Jawahar Kala Kendra and Dr. Reddy's Foundation for their constant support.
Here is wishing our readers a Happy New 'Reading' Year for 2019.
If you are interested in hosting a similar workshop for your organisation, drop us an email on storyweaver@prathambooks.org
Be the first to comment.
---
written by Purvi Shah, Head - Digital Initiatives, Pratham Books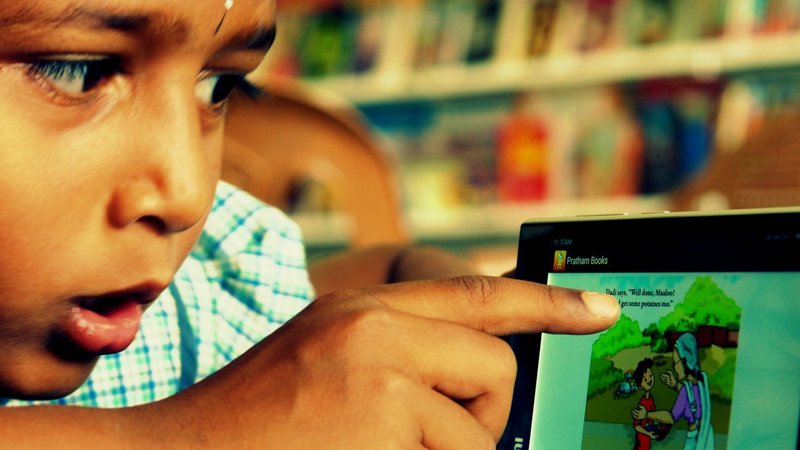 Earlier this year, MIT Solve asked the question 'How can teachers and educators provide accessible, personalized, and creative learning experiences for all?' More than 400 innovators from nearly 80 countries around the globe submitted solutions from which StoryWeaver was chosen to be one of the eight members to work on the challenge.
Take a look at the StoryWeaver pitch at the Finals and I'll tell you the story of the Teachers & Educators Solver Class of 2018.
The day after Solve Challenge Finals, eight individuals from all across the world sat huddled with coffees and a shot of inspiration on a cold New York morning, sharing the stories of the journeys that led us to that very room. We had just been selected as the new Teachers & Educators Solver class, and our orientation session was nothing short of invigorating, lighting a spark in each of us.
It was humbling to see that while we came from different countries and different backgrounds, our stories were similar, deeply rooted in our personal experiences. Yet we were all working towards a common goal: creating affordable, accessible, high-quality resources to educate our children.
My Story: How Stories Can Transform a Child
Personally, my mother has always stood up for me and for what is right. Growing up, this gave me the utmost confidence to be—and do—what I wanted. It also made me wonder what part I could play in making sure that every child lived her life with the same sense of security and confidence.
I've worked with Pratham Books, a unique nonprofit children's book publishing house, whose mission is to put a book in every child's hand, for 12 years now. I know that most underserved children are first generation readers and don't have access to quality education.
Even more troubling is that their parents are often not equipped to help empower their children's learning. To support these children, we need to entrust this responsibility to their next circle of influence, their teachers, and give these teachers all the support they need.
This is why I am excited to lead the StoryWeaver platform for Pratham Books. StoryWeaver's innovative publishing model addresses the inequality that exists globally—not enough children's books, in not enough languages, with issues of poor access and affordability.
The platform provides open access to a large repository of storybooks, and has tools that allow the content to be translated and versioned to suit local needs. StoryWeaver has stories in tribal and endangered languages, and stories on overcoming domestic violence, civil rights, and STEM, which inspire children to learn effectively and dream big.
StoryWeaver puts the power in the hands of teachers to use, create, and adapt reading resources that help transform children.
Their Stories: Seven Inspiring Solutions
Carlos Pereira's 11-year-old daughter, Clara, has cerebral palsy, making it impossible for her to walk or speak. Carlos spent a lot of time educating himself about his daughter's disability. From there on, he built a series of services for people with disabilities. One of them is Livox, a software for Android tablets that uses machine learning and artificial intelligence that enables people with speech-related disabilities to communicate up to 20 times faster.
Having migrated from Korea to London, Heejae Lim understood the challenges faced by migrant parents. She founded TalkingPoints, an education technology nonprofit with a mission to make it easy for any parent to be actively engaged in their child's education. The multilingual communication platform allows parents to communicate with teachers across language barriers.
Melissa Corto grew up with a special needs sibling and having worked extensively in the space, she knew that technology could aid special educators in effective teaching to improve results. She founded Education Modified to empower teachers with the latest research-based instructional strategies to effectively implement students' Individualized Education Programs (IEP).
Passionate about seeing hands-on education manifest around the world, Heather Beem moved from her base in Boston to Ghana to start Practical Education Network, an organization that equips West African STEM teachers to employ inquiry-based pedagogies in their classrooms, using low-cost, locally-available materials.
Priya Lakhani founded Century Tech as a way to solve the crisis levels of student underachievement and teacher workload burden in the UK. Century is an educational platform that provides personalized learning for students, leveling the playing field by improving learning outcomes for all users. It empowers teachers with the right tools to deliver meaningful education.
Rudolph Ampofo went through the complete cycle of the Ghanaian education system, throughout which he always felt that he and his peers had limited access to education resources. Rudolph currently leads Eneza Education Ghana, an organization working towards improving access to quality and affordable educational resources by leveraging SMS, USSD, and web applications.
When she was 20 years old, Audrey Cheng moved to Kenya to work in venture capital. She quickly noticed that most tech experts in Kenya were self-taught, while many university IT grads could not find jobs. She realized that universities taught outdated skills that did not match the needs of companies, so she founded Moringa School to provide young Africans with in-demand digital skills to advance their careers.
The Story We Wish to Write
Each one of us Solver teams are inspired to do what we do because of our unique experiences. We left the Solver orientation session with not only a fresh view of our work, but also with new ideas, theories, plans, and designs to work towards our common goal: supporting the valuable resources that educate our children.
So, as the year progresses, we hope to partner to work towards achieving the UN Sustainable Development Goal which aims to "ensure inclusive and equitable quality education and promote lifelong learning opportunities for all."
Be the first to comment.
---
Akoss Ofori-Mensah of Sub-Saharan Publishers is working with Neil Butcher & Associates (NBA) to research the impact of open licensing on publishing business models by sharing books in underserved local Ghanaian languages. The collaboration aims to understand how open licensing works and 'its benefits to children; especially allowing them to read stories in their own mother tongue.'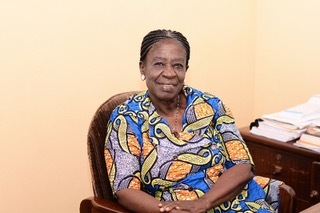 Sub-Saharan Publishers, founded by Akoss in 1992, is an indigenous Ghanaian publishing house now specializing in African children's books, African literature, literature on the trans-Atlantic slave trade, and scholarly books. The environment has always been an important theme to Sub-Saharan Publishers, as is gender. Akoss explains the reason for her emphasis on the environment.
"I love nature; I grew up in a rural community where life is dependent on nature; the forest, the rivers were protected by traditional rules. In my adult life I have seen these rules thrown to the dogs; the quest for quick riches has turned our rivers into muddy ponds and farmlands are being destroyed. The traditional environmental protection rules are no longer respected; and government is having a hard time getting its environmental laws enforced."
Sub-Saharan Publishers is trying to meet the needs of children and young people to have books that they can enjoy reading, and which represent African children and their interests.
Award-winning children's books published by Sub-Saharan Publishers include: Kwajo and the Brassman's Secret about Ashanti gold weights, which won the 1982 Noma Award for Publishing in Africa and the 2015 NSK Neustadt Prize for Children's Literature, which is given by the University of Oklahoma in the United States; Cat in Search of a Friend, which won the 1985 Austrian National Book Prize; Sosu's Call, which won several prizes; The Magic Goat, which won the 1999 Toyota Prize; Mimi Mystery, which was on the 2014 IBBY Honor List; and, most recently, Gizo Gizo, which won the Children's Africana Best Book Award for 2017.
Until now, all books published by Sub-Saharan Publishers have been fully copyright protected. Now that Akoss has decided to experiment with open licensing, Sub-Saharan Publishers has digitized three stories based on tales from Northern Ghana—Fati and the Honey Tree, Fati and the Green Snake, and Fati and the Soup Pot.
"The FATI books were developed when Kathy Knowles, a Canadian librarian working in Ghana felt that there should be simplified stories for Ghanaian children who are just beginning to learn to read. However, she could not get a publisher in Ghana so when she came to me with the first manuscript I agreed to publish it. I found an illustrator for the book and it somehow became a success. The first book in the series was translated into French with support from the French Ministry of Foreign Affairs, through La Joie par Les Livres, A French NGO. They are now being shared with Francophone West Africa." shares Akoss.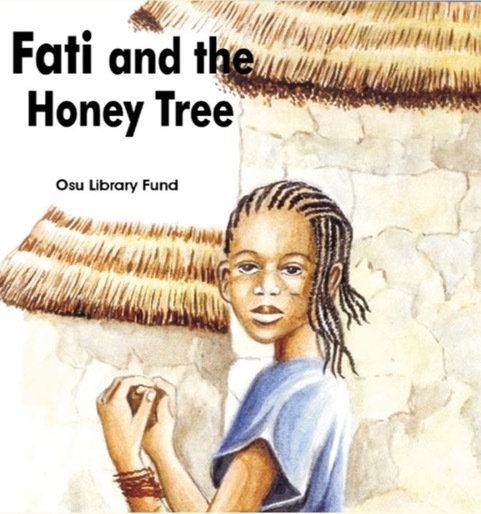 The Fati books have been published on StoryWeaver and will also go on the African Storybook Platform soon. These three stories are available in English and three Northern Ghanaian languages, using a CC BY licence here.
Open licensing allows Sub-Saharan Publishers to have these books translated into other local languages and shared electronically, so that children elsewhere in Ghana and in other African countries will be able to read more culturally relevant local stories in their mother tongue. Children learn to read more effectively if they learn in their mother tongue, but very few children in developing countries have access to enough materials to support local language literacy acquisition.
"The books have also been translated into northern Ghanaian languages, namely, Dagbani, Sisali and Dagaare, three major languages in northern Ghana and since the stories are set there. I hope children in that area would now enjoy stories in their mother tongue. Open license has made it possible for children in that area to read stories in their own languages." shared the publisher.
Read more about NBA's work in early literacy and open licensing for the William and Flora Hewlett Foundation, please visit the Early Literacy Resource Network: http://www.earlyliteracynetwork.org/
Be the first to comment.
---