CONTEST DEADLINE EXTENDED TO OCTOBER 30TH, 2017
September 30th is celebrated around the world as International Translation Day. At Pratham Books StoryWeaver we take translations very seriously! After all, it's thanks to them that we're able to take books to so many children across India, in a language they understand.
While children love to read stories and be read to, they also love to hear and see stories enacted! Which is why this year, for International Translation Day, we thought it was time to find and share more engaging, multilingual video resources with our community. That's where you come in!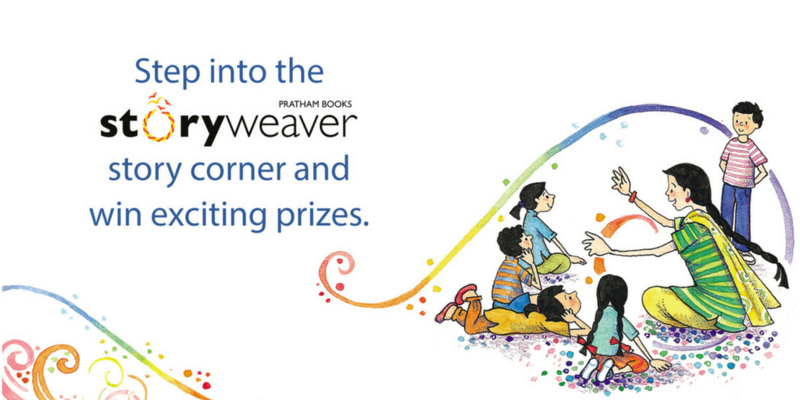 The StoryWeaver StoryCorner contest
It's simple, we're sharing a list of some of our original language and translated books which we think lend themselves beautifully to reading aloud. We want you to send us a video of yourself enacting the story or reading it out loud in the most engaging way possible. The best entry will win a book hamper from Pratham Books and a signed illustration by celebrated children's book illustrator Rajiv Eipe.
Contest Guidelines and Rules
Contest is open from September 30 - October 30th, 2017

All entries must be uploaded to YouTube and the YouTube link shared with us along with a small note about yourself and the title of the story you chose via email to storyweaver@prathambooks.org

Entries must not be longer than 7 mins

Entries of the stories shared on this page alone will be considered for the competition.

Contestants must be 18 years and above to participate.

Participants can submit more than one entry.

Prizes can only be couriered to an address in India.
Tips and Tricks
Make sure you practice before filming. In front of the mirror or use your cats and kids as an audience.

Set your camera in landscape mode (horizontal)

Find a quiet space to film. Avoid filming near windows or in common shared spaces.

To reduce ambient noise, switch off fans, air conditioners and mixer grinders!

Remember your story could be used by our outreach partners in the classrooms they teach in. So while you might be telling the story to your camera, imagine there's a bunch of kids listening! Really TELL the story.
Here are the books you can choose from
Pehelwanji learns a slippery lesson Available in Hindi, Kannada, Marathi, Urdu and Telugu.
Not now, Not now in Hindi, Marathi, Kannada, Tamil, Bengali, Odia, Telugu
Ting, Tong Telugu, Marathi, Eng-Kannada, Eng-Tamil, Eng-Hindi
I Want That One Hindi, Kannada, Marathi, Urdu
Satya, Watch Out! Hindi, Marathi, Kannada, Tamil
Doong, Doong, Dum, Dum Hindi, Marathi, English-Hindi, English-Marathi, Juanga-Odia
Gulli's Box of Things Hindi, Marathi, Kannada, Tamil, Bengali, Odia, Telugu, Gujarati
Mouse in the House Hindi, Tamil, Telugu, Kannada
Angry Akku Hindi, Marathi, Kannada, Tamil
Aunty Jui's Baby Marathi, Hindi, Kannada, Telugu, Urdu
Smart Sona Hindi, Kannada, Marathi, Tamil
Ghum Ghum Gharial's Amazing Adventure Hindi, Marathi, Kannada, Tamil
Tok Tok Hindi, Kannada, Marathi, Tamil, Telugu
Asila Basila Uthila Jaucha Kui-Odia, Hindi, Marathi
What Happened to the Old Shawl? Hindi, Tamil, Telugu, Kannada, Marathi
Translations of these stories in other languages do exist, however these are by community members. Do try and choose a story from the above list that has a 'Recommended' tag. If you can't find the story you'd like to narrate in a language you're fluent in, then do go ahead and translate the story on StoryWeaver and then use it!
You can download and print the story (or stories) you will be reading aloud, or read them from a mobile phone or tablet.
Here's a fantastic read aloud by Pratham Books editor and author extraordinaire Mala Kumar for inspiration.
If you have any questions do write to us at storyweaver@prathambooks.org
Be the first to comment.
---
Written by Chetana Divya Vasudev and Sherein Bansal, Assistant Editors, Pratham Books
Even a kilometre away from Agastya Foundation's Science Campus in Kuppam, we're greeted by the fresh scent of its green landscape. We all wake up (or are made to) after a three hour journey, and look out the windows to see hills and farmland all around. As we reach the gate, we see their motto 'Aah Aha! Haha!' inscribed on it - a philosophy that drives their 18 year old science education programme.
Children from under-served backgrounds experience the wonderment of discovery (Aah!), to understanding the concept (Aha!), to having fun with learning (Haha!) here. The science campus, situated on the border of the three Southern states- Andhra Pradesh, Karnataka and Tamil Nadu, attracts about 600 children from neighbouring villages, who come to the campus about once a week to experience learning.

Pratham Books and Agastya Foundation have been collaborating for years, driven with a common philosophy of making children curious. With the launch of StoryWeaver, getting books into the hands of the hundreds of children that visit the campus has been made even easier. The digital library sits in the computer center where the children can choose a book to read in either Tamil, Telugu, Kannada or English, including many of our STEM titles, along with learning animation and mastering basic computer skills. The Pratham Books team is on a visit to the amazing campus to get a sense of all the initiatives Agastya Foundation has undertaken to nurture this curiosity further.
We roll ahead and everyone is looking out of the van windows pointing at the sculpture of a dismantled batsman, or a huge ant hill with child-sized ants crawling over it, or a mini-bus randomly sticking out on a pole. We come to know later that all the sculptures and installations across this beautiful 172 acre land were created by the renowned architect, Sharukh Mistry and Agastya Design team.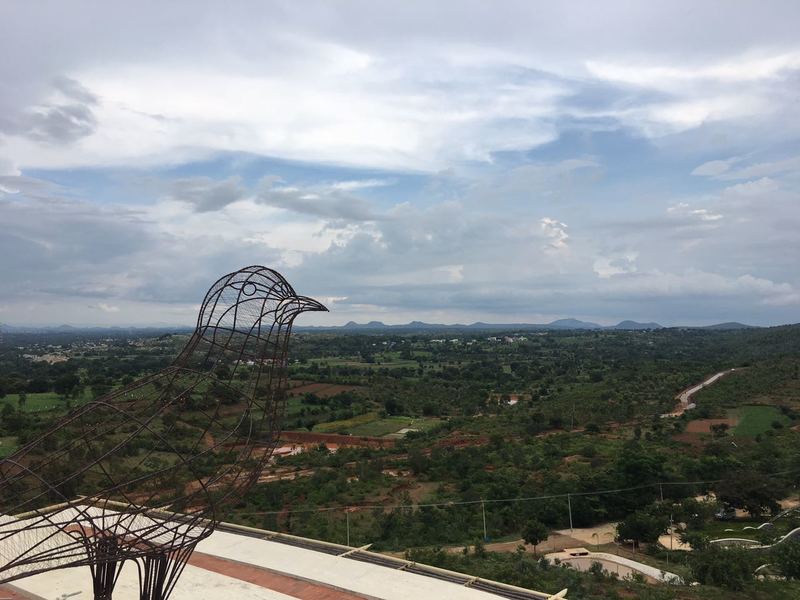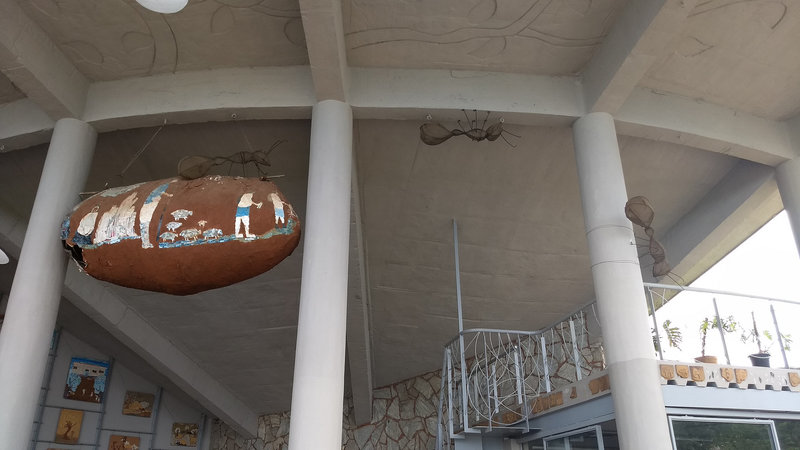 We have our fill of the sight of the faraway hills that circle us, and reach the stone-walled auditorium situated in the midst of this biodiversity. It's nearly lunch time when we walk into the cool auditorium. Jagadeesa, an ace storyteller and head of the library program at Agastya Foundation, has just finished the narration of 'Kottavi Raja and His Sleepy Kingdom' in English and Telugu. His audience of about 200 children, scattered across the space, are clearly delighted. One girl even volunteers to tell the story in English again.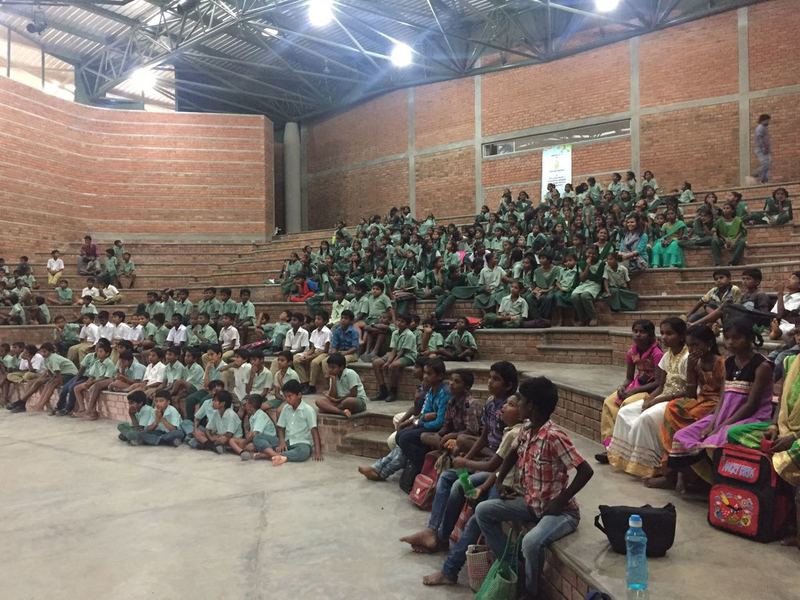 Once she's done, our team spreads out among the children, and an easy chatter resumes. Soon, they start filing out for their noon break. We meet some of the Agastya staff members, and they tell us more about the work they do.They lead us out, along a concrete path strewn with imprints of leaves of the Indian almond tree, up to the canteen. By the door are tyre and metal pawns that go with an outdoor chess board! The meal is simple yet delicious and we discuss Agastya's philosophy behind setting up this campus in detail.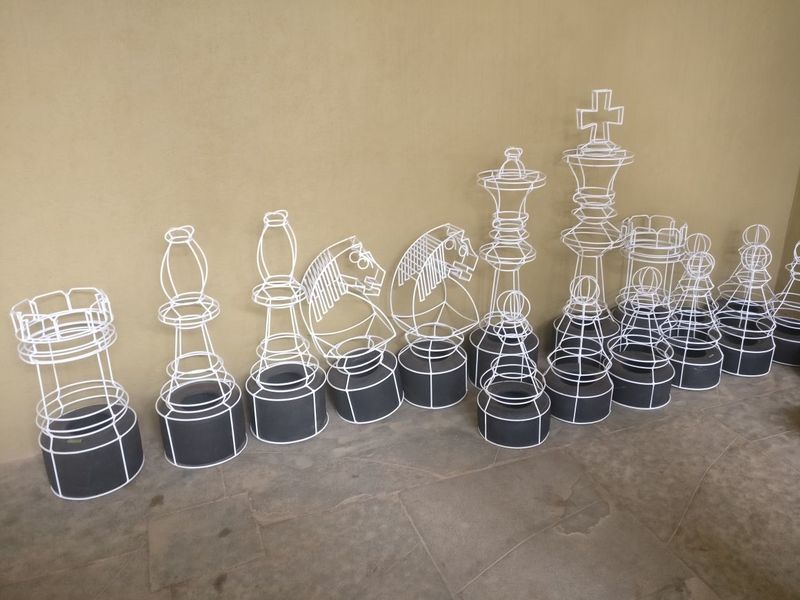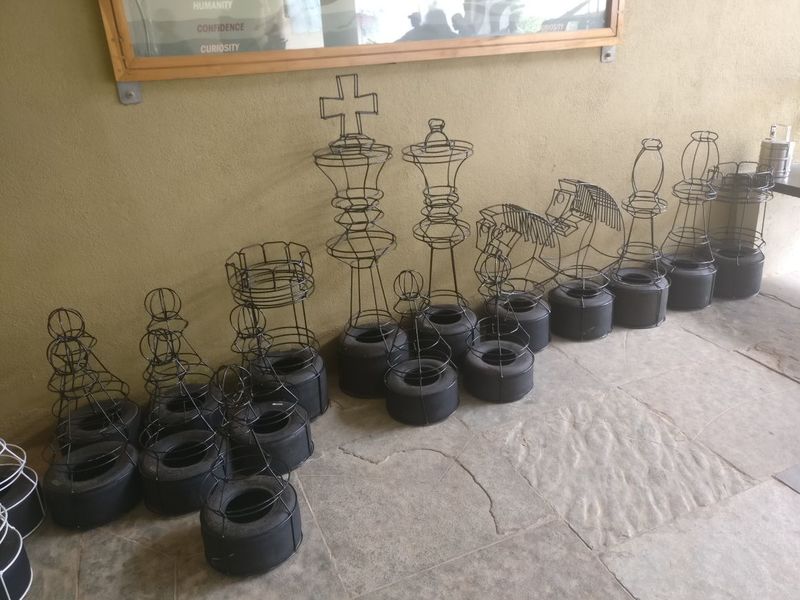 A little later, Aparna Kapur, author of 'Ghum-Ghum Gharial's Glorious Adventure', takes the stage and narrates the story of Ghum Ghum, a baby gharial who separates from her family in the river and must make her way back to them somehow! The children giggle their way through the animal sounds that punctuate the book. Jagdeesa live-translates the story into Telugu.
Our Editor, Bijal Vachharajani is up next. She makes the children laugh with the narration of her story 'What's Neema Eating Today?'. We watch children repeat after her. Funny expressions and sounds of 200 satisfied tummies, and the auditorium goes "Mmm-mmmmmmmmmmm!" Everybody has fun identifying their favorite seasonal fruits in the colourful picture book.
The final session with the children is the Food Rakshasa Activity conducted by Bijal and Aparna. Children are divided into groups and together they draw their idea of a monster on paper by substituting body parts with fruits and vegetables -- chilli, ladies' finger, bottle gourd, apple, carrot and more. And what lively, scary, yummy monsters we get to see by the end of it!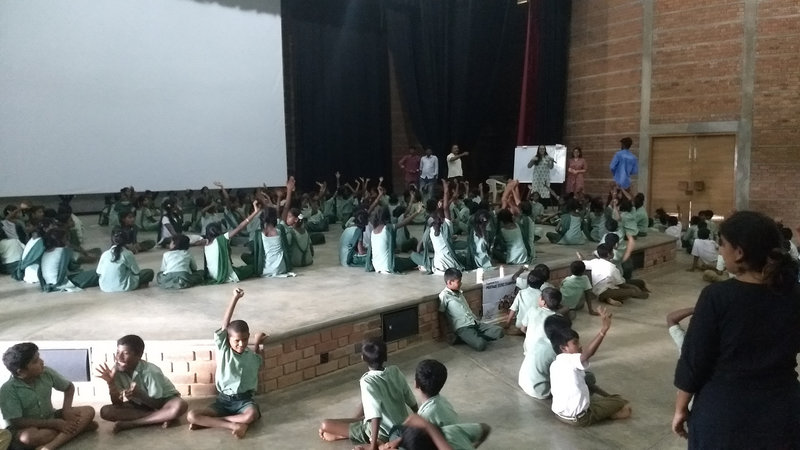 Post the session, the Pratham Books Team follows Subramanya Shastry, a key team member of the Foundation who has generously agreed to give us a detailed tour of the campus. "The children observe the nature around, pick up things from their surroundings, and create art from it," our host is explaining. But his words nearly skip our attention; the display around us is distracting.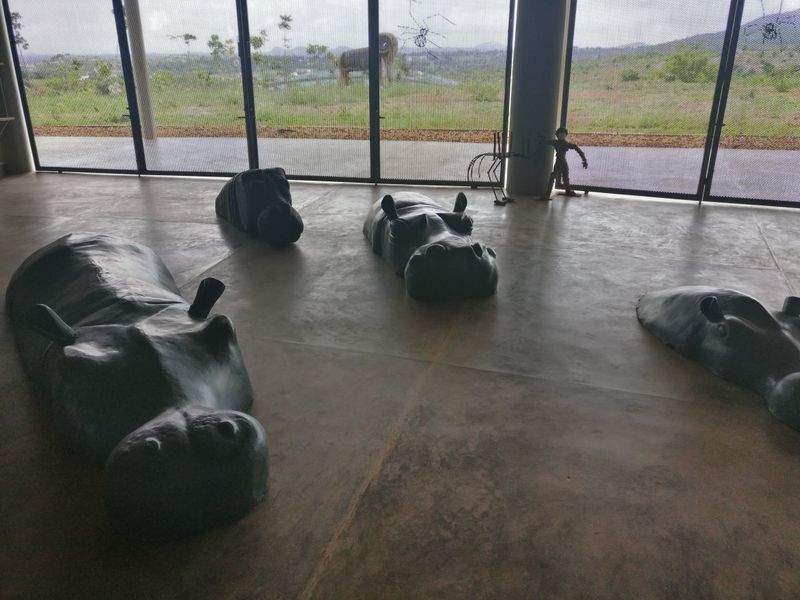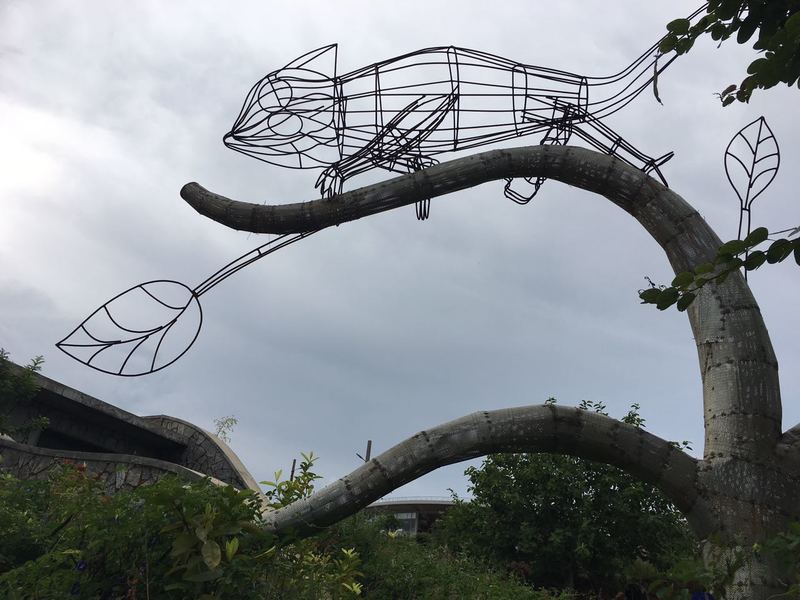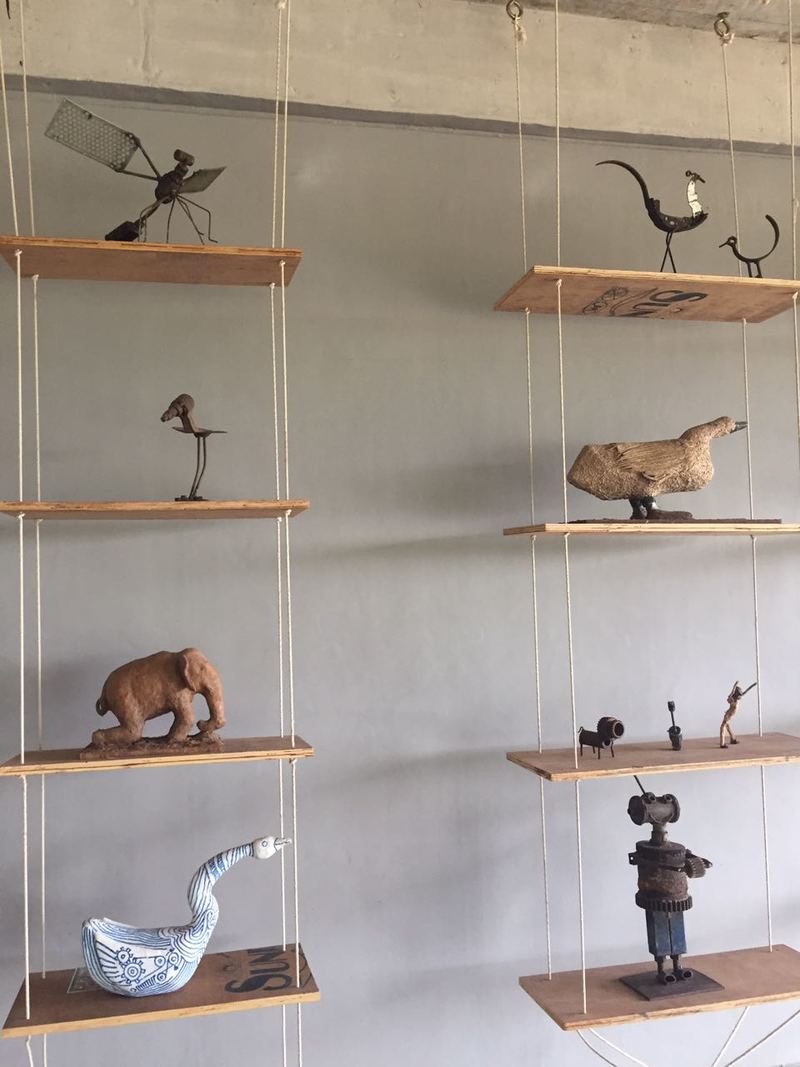 We tear ourselves away from this building with some difficulty and head to the innovation centre. Here the children, in groups, come up with devices or social interventions that impact their day-to-day life. For example, since water supply is erratic in most villages, one group has devised a sensor to alert people when water has been released. In the summer months, the supply can be as infrequent as once in ten days, so it's crucial not to miss every opportunity to fill up the buckets. Another group's device, to be installed at bus stops, would indicate how many buses of a certain route have passed.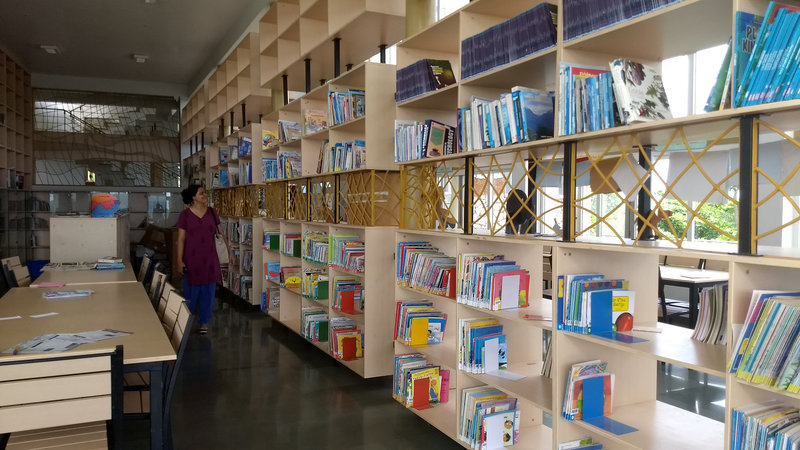 Our tour includes the media centre where we get to see photographs, animations and short films by the children. We wrap up with a short visit to the library and the robotics lab.
Too soon, it's time to get back on the bus. As we wave goodbye to the staff and children, we're certain we'll be back here before long.
More pics from our visit can be seen here: https://flic.kr/s/aHsm4sDAMf
Be the first to comment.
---
Sushrut Kulkarni, has 20 years experience in the field of computer networks and websites. He is a technical writer and translates and writes in Marathi, Hindi, English and German. He writes for various reputed publishers, newspapers, documentaries and radio.
One of the major technical hurdles for regional languages was fonts. That sphere was dominated by proprietary and non-standard fonts.
मराठी आणि अन्य भारतीय भाषांना कॉंप्युटरवर रुळायला बराच काळ जावा लागला. याचं मुख्य कारण म्हणजे फॉंट वापरण्यातले तांत्रिक (आणि आर्थिकही!) अडथळे होते. सुरुवातीला केवळ वृत्तपत्रं आणि प्रकाशनसंस्थांकडेच कॉंप्युटरवर मुद्रण या मुख्य उद्देशानं मराठी वापरलं जात असे. वेगवेगळ्या कंपन्यांनी तयार केलेले फॉंट वेगवेगळ्या प्रमाणांवर आधारित असल्यानं एका कॉम्प्युटरवर टाईप केलेलं दुसऱ्याला त्याच्या कॉम्प्युटरवर वाचणं अनेकदा शक्यच होत नसे. दरवेळी फॉंट बसवणं किंवा ते विकत घेणं शक्य नव्हतं. यामुळं प्रादेशिक भाषांमधलं लेखन इंटरनेटवर उपलब्ध व्हायलाही खूप वेळ लागू लागला.
यावर उपाय सापडला तो युनिकोडच्या (Unicodeच्या) रुपानं! युनिकोड ही जगातल्या कुठल्याही कॉम्प्युटरवर (किंवा मोबाईल फोनवर) वाचता येईल अशी एक लिहिण्याची पद्धत आहे. कॉम्प्युटर क्षेत्रातील काही कंपन्यांनी आणि तज्ज्ञांनी एकत्र येऊन ३ जानेवारी १९९१ रोजी युनिकोड कॉन्सर्टियमची स्थापना अमेरिकेत केली. या सर्वांनी मिळून फॉन्टसाठी एक विशिष्ट मानक (स्टॅंडर्ड) बनवलं. यापुढं फॉन्टस्‍चा जो विकास आहे तो या युनिकोड आधारावर होईल असं ठरवण्यात आलं. त्यामुळं कुठल्याही फॉन्टमध्ये जगातल्या अनेक भाषा सामावता येऊ लागल्या. आता बहुसंख्य युनिकोड फॉंट नि:शुल्क उपलब्ध असल्याने इंटरनेटवर इंग्रजीखेरीज अन्य भाषांमध्ये देवाणघेवाण मोठ्या प्रमाणावर शक्य झालेली आहे.
Be the first to comment.
---