Suganya from the StoryWeaver partnerships team, talks to Vandana Shah, COO, Sharana, a Pondicherry-based social and development organisation that works to address the critical educational needs of socio-economically disadvantaged children and communities in urban Pondicherry and its surrounding villages.
This year, Sharana used the StoryWeaver for a reading programme they ran as part of the summer camps at their centres in Pondicherry.
Q.Tell us about yourself and your association with Sharana. What motivated you to work in children's education and welfare space?
My name is Vandana Shah and I am the Chief Operating Officer in Sharana- an NGO based out of Pondicherry. Most of what I am today is because of the education in the ashram school at the Sri Aurobindo International Centre for Education till the age of 21 completing my bachelor's degree.
I was always passionate about people, the villages and communities. I had the opportunity to volunteer in Sharana, a social organization, for six months before my Master's degree. I helped by doing odd jobs, teaching children English, translating French letters in English, and most fun of all- accompanying the children for a one-week long residential camp in Summer. That week of Summer Camp has had a great impact on me; it is probably what made me decide to look back towards Sharana 6 years later.
After having completed my Master's degree I worked in several fields; teaching languages as a teacher, coordinator at a Language institute, interpreter. In 2013, Sharana happened to fall into my lap, when I approached Mrs. Rajkala P., founder and president of the organization and since that moment in March 2013- 6 years have flown across, I have not seen the time pass and I am beginning to realize a more meaningful purpose in life.
In my experience at Sharana, I am convinced that true and lasting change can only be brought through education and this is especially true of children from the streets and slums. If they want to come out of the vicious cycle of poverty and become independent and productive individuals, schooling is essential. We have seen children from the toughest backgrounds come out victorious against all odds, and our dedicated team of social workers has always been present in case any hurdle arises.

2. Do you like to read books? If yes, how important is introducing reading culture in children from their young age?
I love reading books, although I confess, I have not been able to read as much as I would have liked to in the past few years.
In today's age, where there are screens everywhere, it is essential to introduce reading to the children. It's a dying habit, it's so rare to see children pick up a book and read, most of them read on screens, watch videos - it's indeed the digital age everywhere.
I owe too much to my teachers and friends who pushed me to read, without their push I would've never done it. And now it's our turn, more than ever, to encourage the children to read and to live the joy of reading, of coming back home and running to finish a book, or eating while reading, or reading through the night because we can't just close the book! And that moment when you finish a book, and just hold it for a brief moment in your hands. That feeling is priceless.
3. Tell us about your experience with the StoryWeaver Reading Programme and what kind of impact it had on your children.

The children come to Sharana every day of the summer camps and plan several activities for them during this time, ranging from free games, to art, dance, etc. This year we had thought of introducing a reading practice and free-reading activities, where children can pick any books they would like to from the library and read.
The reading programme fell into our laps at the correct time- we had a series of stories, specially designed for Indian children in the context of the summer holidays. The images were real and local, the names were Indian, in short, the scenarios were palpable and imaginable by our children. This was a huge change from other books which may not cater specifically to Indian children. We used to project the stories and often do a read-along followed by some simple interactions and activities.

4. What change do you want to see in children's education space? What do you wish for the children that you work with at Sharana?
Sharana works with over 1000 children in total, of these over 400 are from the streets and slums in and around Pondicherry. Most of the children who access our rural as well as urban centres are first generation school goers, most of which attend government schools. In this schooling system, where most exams are passed depending on your "by-hearting" and not necessarily on your understanding skills- it is important here to note that our children's levels of English vary from basic to almost nil. The challenge, therefore, is huge, but the effects of this reading practice are real- today after just a few weeks of using these stories, the children are more confident when they read and they try to understand the meaning of the words and sentences without simply repeating -this was clearly lacking before.
We encourage children to read books. When they are in Sharana, books and art material is always at their disposal- they should be able to choose what they would like to do in their free time and have the means available to do it.
To our immense pleasure some children have started picking up books and running to the shelves and fighting over who gets which book- sometimes it's to go through the pictures, and sometimes it's to read aloud- sometimes it may be too tough and they just try to read aloud a few words- whatever the reason we see that the seeds have been planted!

Reading is essential for the learning of any language, and especially reading aloud and reading regularly- we will continue to provide these to the children in the centre of Sharana. Even when other programs start and may finish- access to reading in Sharana will remain a constant. I want the children at Sharana to make friends with books and learn to escape into the world of the written word.

comment (1)
---
Pratham Books (www.prathambooks.org) is a not-for-profit children's book publisher that was set up in 2004 to publish good quality storybooks in multiple languages to support reading acquisition among children. Our mission is to see 'a book in every child's hand' and we have distributed millions of books in print and digital formats and spread the joy of reading to millions of children in India and across the globe. Pratham Books has always pushed the boundaries when it comes to exploring innovative ways in which to create access to joyful storybooks and have been fortunate in finding partners to collaborate with who share this vision.
We are looking for a Director - Fundraising and Donor Relations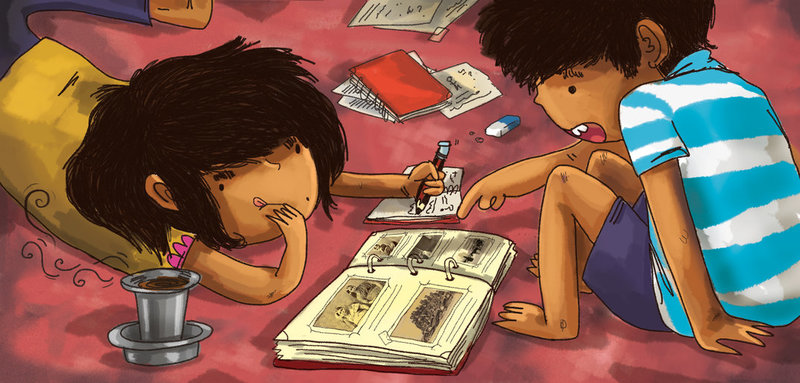 Illustration by Kaveri Gopalakrishnan from How old is Muttajji? by Roopa Pai
Pratham Books currently has multiple projects which are supported by various donors. We are looking for a Director - Fundraising and Donor Relations, who will lead our fundraising efforts and build sustainable relationships with donors. The candidate recruited will manage a team and be responsible for all decisions on fundraising and donor management.
Key Responsibilities:
Lead and manage the end to end process of fundraising and donor relations, which includes the following:
Planning and strategizing yearly fundraising goals
Establishing a strategic and systematic focus on closing multi‐year commitments with potential leads and donors (Corporates and Foundations)
Researching grant opportunities and developing proposals for Foundations
Identifying funding opportunities via awards
Building and maintaining relationships with existing donors and ensure timely reporting
Managing volunteering engagements with donors
Implementing fundraising campaigns from time to time
Managing our crowdfunding platform www.donateabook.org.in
Required skills:
8 to 12 years of experience in Fundraising and Donor Relations at a non-profit organization or similar experience in managing CSR activities
Excellent writing and presentation skills
Well networked in the donor community
Is a self-starter, displays initiative and drive for results
Has the ability to lead individuals and teams in setting and achieving challenging goals
Nice to have but not mandatory:
Previous experience of working in the education sector.
Location:
This is a full-time position in our Bangalore office.
Compensation:
Salary will be commensurate with qualifications and experience.
Write to us:
Email your resume with 'Director- Fundraising and Donor Relations' in the subject line to careers@prathambooks.org
Be the first to comment.
---
K. Suresh likes to be known as a translator and has several books published for adults as well as children. He is one of the founders of Manchi Pustakam, a Trust for publishing and distributing children's books in Telugu. The organisation has more than 200 titles published by it and distributes an equal number of select books by other publishers. His emphasis is on books that create interest in and love for books among children. He feels that there is a great need for graded books that help children to increase their reading capacities. He has translated many stories to Telugu for Pratham Books including 'The Cat in the Ghat!' and 'What If?'. You can read his stories Mouse in the House and Lost and Found on StoryWeaver.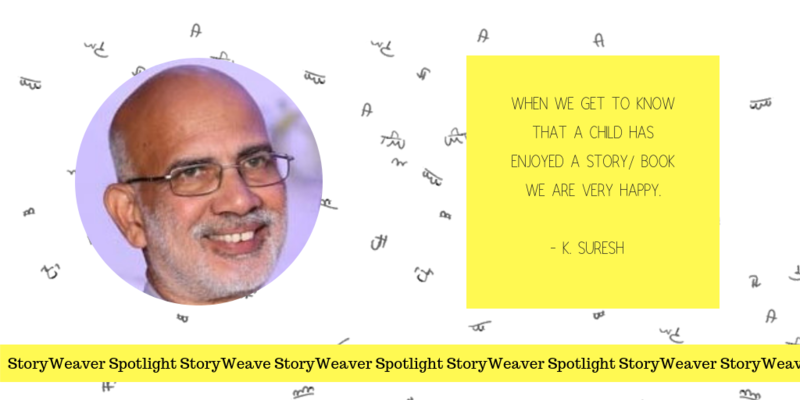 Q: What type of person do you think makes the best translator for children's stories?
A person who loves books, likes children and respects them.
Q: Do you have any advice for anyone interested in becoming a translator?
A: The person should have good command over both the languages and should know the nuances. S/he should also know the cultural context and usage of idioms and phrases in both the languages. One should also read a lot.
The language for children should be simple. While translating one should use available vocabulary, though English words are commonly used. After completing the translation, give some gap and read it again without the source language text. Read it objectively, as if it was done by others and your job is to find errors in it.
Q: A book you'd like to recommend to other translators?
I suggest that the translators start with what they like and should feel that the children in the other language would miss a lot if that book isn't translated. Obviously, I would suggest a book that I love very much.
Q: What is your personal relationship to language and/or translation?
I love to read books. I have started my work as a sub-editor in a Telugu newspaper, which involved translation and cultivated it over the years. I am not a creative writer, so I take pride in translation!
Q: When you've been given a story to translate, what's your process, and how long does it generally take?
Sometimes I jump into translation. Sometimes, I read the entire story and sleep over it. While reading and in the free time, I think about the appropriate words and how it will be in Telugu.
Q: What do stories in translation bring to young readers?
It opens up their world! It introduces a new culture.
Q: You've translated stories for us. Which has been your favourite to work on?
I had the fortune of translating, reviewing and being a Guest Editor for Pratham Books. I liked translating The Cat in the Ghat!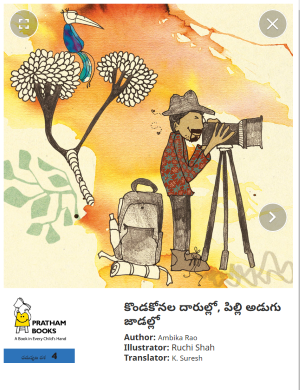 Q: What is the hardest thing about translating from English into Telugu? How do you navigate words or phrases that are tricky to translate?
The structure of English sentence is complex; it can take several adjectives and be very long. Breaking the sentences while translating sometimes results in losing the emphasis. The rhyming and punning with English words is difficult to translate. After the first translation, I explore simpler expressions and choice of vocabulary.
Q: How do you feel when your story reaches the child?
When we get to know that a child has enjoyed a story/ book we are very happy.
Q: Translating stories must have required research when it came to STEM related terms and concepts. How did you explore new objects and concepts?
For some words, I look up the dictionary. Sometimes re-writing helps. Constant reading will add to one's vocabulary.
Q: How else do you think we can join hands to take more stories to more children in more languages?
Pratham Books and Tulika are doing excellent job in multi-language publications. StoryWeaver is providing a platform for exchange of books in various languages. Arvind Gupta is encouraging multi-language translations of children's books and posting them on internet archive. Earlier there was considerable direct translation in regional languages, now English has become the connecting language. A publishers' consortium for exchange of rights would be beneficial.
Q: As a publisher and translator what do you think is the best way to approach a child?
The general tendency is to preach to children, which I do not subscribe to. We expect lot from children without practising/ following them. The best way is to make a range of books available to children from which they can choose. We should not be overly worried about what they learn from a book. They will definitely learn from books and the society at large.
Be the first to comment.
---