Riddhi Dastidar, Outreach Team member shares her experience at a recent storytelling session at a Teach for India classroom in Delhi.
Recently, on a sweaty August day, I found myself sleepily making my way to a grade 7 classroom in South Delhi. I found myself in a room with brightly colourful walls, filled with little girls with red-ribboned hair, smiling faces, and questions in their shy eyes. We walked in as Sameera 'Didi' was finishing up a lesson. Sameera is a lawyer turned Teach For India Fellow. Teach For India's vision is that one day all children will attain an excellent education. They place young leaders (like Sameera) as full-time teachers in under-resourced government and affordable private schools for 2 years. As Didis and Bhaiyas there, Fellows drive the short-term mission of TFI. After the Fellowship, as Alumni, they work in diverse sectors from policy to teacher training to drive systemic change towards educational equity. In 2016 TFI impacted students across 353 schools in seven cities across India.
We were there to share Mathangi Subramanian's 'A Butterfly Smile', a story that follows the journey of little Kavya who has just moved to the big scary city of Bengaluru from her native village where her parents used to be farmers. Now they live near a noisy construction site far from the colours and butterflies of her old home. She decides to venture her knowledge about butterflies on a class-trip to the butterfly garden and in the process begins to find a new sense of belonging.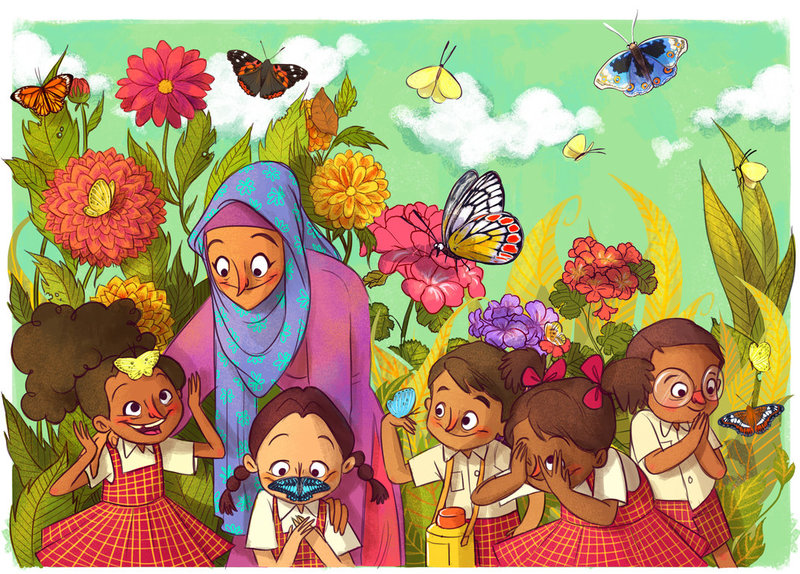 This story was especially appropriate for a TFI classroom, where the message is always that right outside your comfort zone is where the magic can be found! They drive this in the Fellows by throwing them into the deep end of communities - right out of college or the air-conditioned corporate sector. The Fellows in turn push their students to take ownership of their learning and grow. The children are usually several grade levels behind in their reading comprehension, which is key to mastering the language of their texts and hence the concepts they learn. With a focus on holistic learning, Fellows help their students to find their light as they discover it within themselves too.
On this day, Mathangi and the children read the story together, and the children filled in facts that they already knew about butterflies. We discussed what it felt like to be new, to move somewhere completely different and what helped them to be brave like Kavya in a tough situation!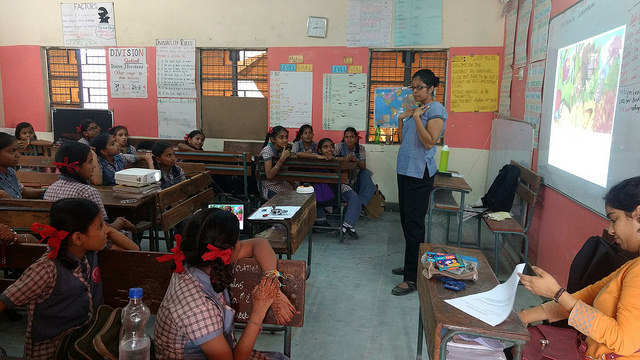 We touched upon how butterflies actually come from caterpillars sleeping in big fat coccoons. Much like the cocoons, the girls were bursting to the brim with questions for Mathangi about her life as a writer. They got into groups and decided which of their many questions to ask:
"How long have you been making stories?"
"How do you decide the topics for your books?"
"How do you create your characters?!"
"I wrote my first story when I was five and I published my first book when I was 35 – so it took me 30 years!" Mathangi told them, blowing their minds.
"I like telling stories but it takes a lot of work and patience to become a writer. It comes from watching how people who are different from me live- so with this story, I was walking down a street in Bangalore and noticed some kids playing in a construction site…"
We discussed the research that goes into deciding what to write about and all of the little tiny everyday observations that go into the creation of characters and books. Observation and listening were superpowers the girls were trying to practice in their own lives too.
"It's sometimes about meeting people, sometimes about reading things- but it's mostly about seeing everything in the world", Mathangi shared.
After the session, we said goodbye with many hugs and waves, but the conversation continued.
The girls compared and contrasted their lives and the things that made them brave, as shy 7 year old babies to now as 12 year olds who feel capable of taking care of themselves.
After Mathangi's revelations on how being a careful observer played a big role in her life as a writer, the children picked up this thread to talk about where they observed and absorbed things from- from their families and homes to the increasing influence of their peers, teachers and the outside world as they grew up. Some brought up the point that while as a norm, parents want the best for them and were where they got their brave from, sometimes they could be wrong too. Some of the girls brought up the subtle ways in which their gender sometimes felt like a cocoon of the limiting kind instead!
This is the role we hope to play with our STEM books - to get children thinking about science, themselves and their connection to the world around them - and to leave their brains buzzing and the ideas and words flowing- long after we leave the room, or the last page of a book is turned.
You can read A Butterfly Smile in 5 languages on StoryWeaver.
You can see more photos from the session here.
Be the first to comment.
---
IMPORTANT UPDATE: CONTEST DEADLINE EXTENDED TO AUGUST 30, 2017
Here's your chance to illustrate a book for Pratham Books' StoryWeaver and get paid for it!

Some of us look at the word "tree" and doodle this:
And others conjure up something like this: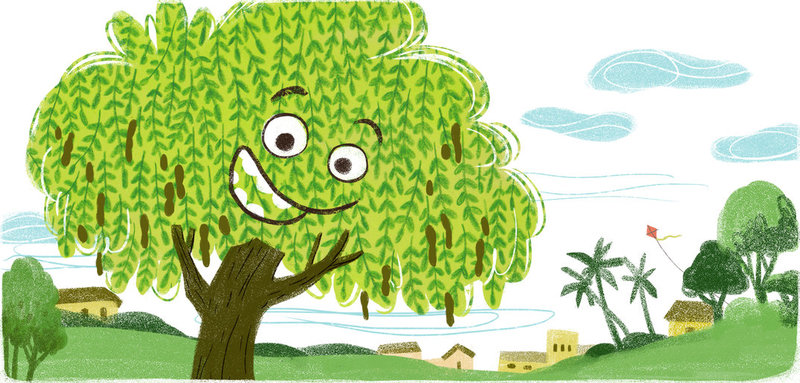 (Illustration by Archana Sreenivasan from 'Let's Go Seed Collecting')
or this: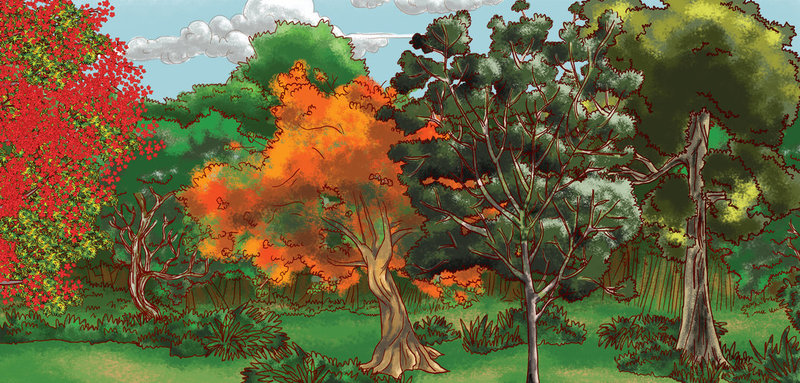 (Illustration by Vinayak Varma from 'Jadav and the Tree Place')
If you belong to the second category, then this contest is right up your alley!
Who is Ameena?
We have got a fabulous story coming up - 'What is Ameena Upto?', written by Roopa Banerjee. It is a charming story about a girl called Ameena and the antics she gets up to when her family isn't looking. We know Ameena is a mischievous little girl with a big imagination. But what does she look like? What does her family and her home look like? All of that is up to you! This is your chance to illustrate a children's book for Pratham Books StoryWeaver!
Here is an extract from the story 'What is Ameena Upto?'
Everyone's wondering what Ameena is up to on a sleepy Sunday afternoon. After all, where did the coconut shell, the paint, the buttons, and newspaper go?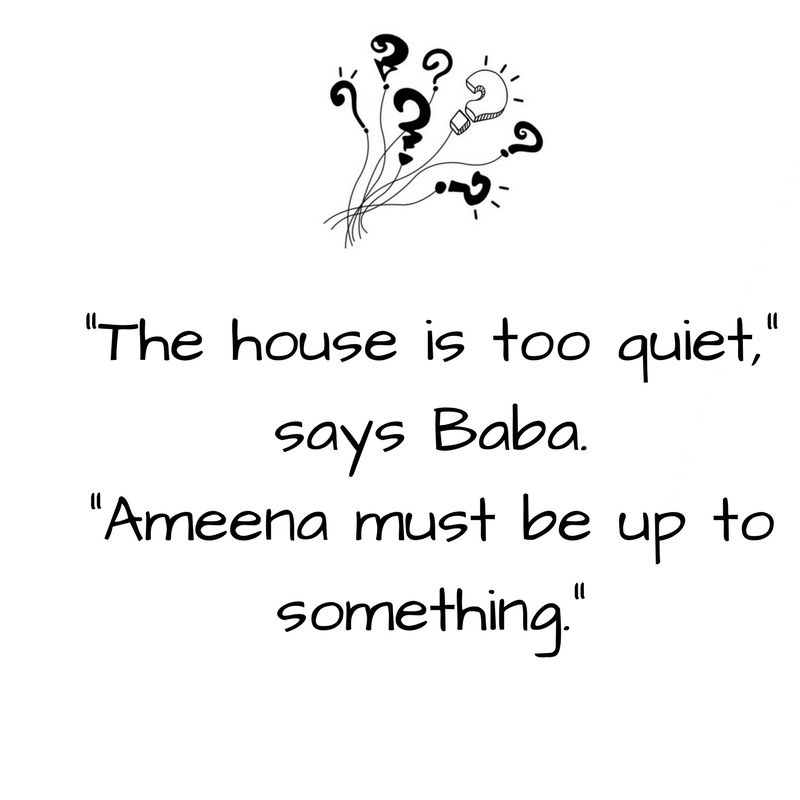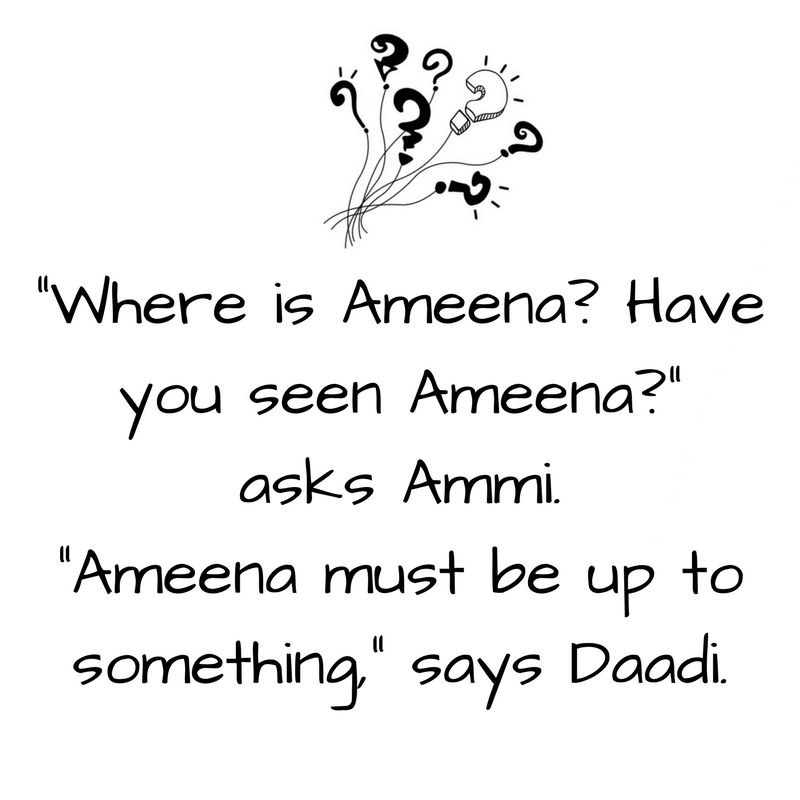 What you have to do:
We want you to draw Ameena! Upload your illustration on StoryWeaver by clicking on the button on the bottom of the page. Then send us a brief note at storyweaver@prathambooks.org telling us your vision and how you would illustrate this story. (You must send the vision note, otherwise your entry will not be considered valid.)
The contest will be judged by award-winning illustrator, art director, writer, editor and overall publishing rockstar, Vinayak Varma. If we like your Ameena and vision the most, you will be chosen to sign a contract with us. You will get two months to illustrate the whole book, which will be published by Pratham Books on StoryWeaver. And yes, it's a paid contract.
This is a Level 1 story, which is for children who are eager to begin reading. This is how pages of level 1 books look: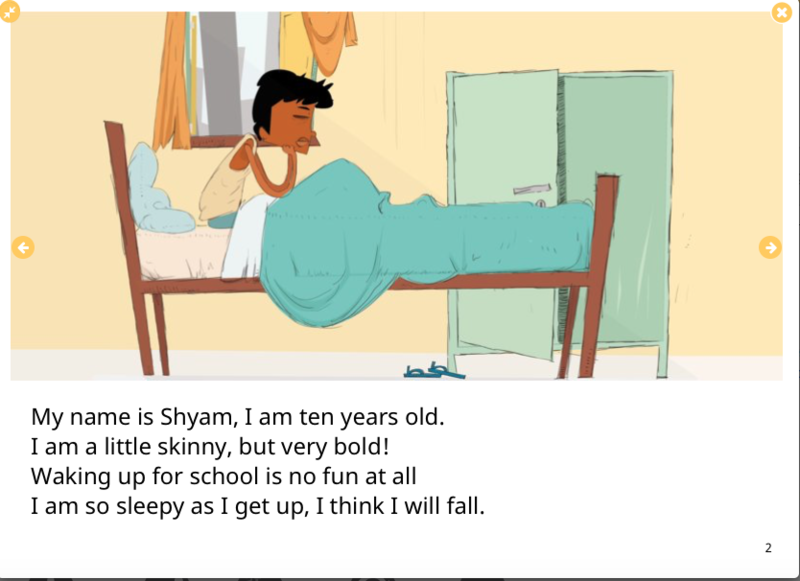 (From 'What If?', written and illustrated by Hari Kumar Nair)
Contest Guidelines
The contest will run from August 9-30, 2017.

Please send your illustration notes to storyweaver@prathambooks.org.

Participants must be over the age of 17 to participate.

By submitting your original art work to 'Who is Ameena?' you are agreeing to a CC-BY license being applied to it (This license lets others distribute, remix, tweak, and build upon your work, even commercially, as long as they credit you for the original creation). To know more about CC-BY, click here.
Format
Size of illustration: 11.17 inches (width) x 5.35 inches (height). This is the recommended size as it fits neatly into one of the templates on StoryWeaver.

The illustrations should be high-res (150-300 dpi).

Format: JPEG

File size for each illustration: Between 2 to 4 MB; above 4 MB will slow down the upload process

For any queries, write to us at storyweaver@prathambooks.org!
comments (5)
---
When StoryWeaver launched in September 2015, we envisioned the platform as a creative space where the creators and readers of stories could meet. In the last 22 months we've been blown away by the creative talent of our community.
We're listening
We take feedback seriously and we've taken your comments about your StoryWeaver experience on board. We will be rolling out a series of upgrades across the next month, but first up is an all new story creation tool! We've added some cool new features, grouped tools together for easier access and made the interface even easier to use.
Watch this quick video tutorial to find out what's new before heading over to StoryWeaver to create a brand new story on our brand new creator!
Click on the 'create' button at the top of this page to try it for yourself!
Once you've created a story we hope you'll take a minute to fill out the feedback form at the end and tell us what you liked about the new design!
Be the first to comment.
---