Pratham Books is a not-for-profit children's book publisher that was set up in 2004 to publish good quality, affordable books in many Indian languages. Our mission is to see 'a book in every child's hand' and we have spread the joy of reading to millions of children in India.
In the last 3 years, we have invested deeply in technology based initiatives to further our mission. We are now looking for an experienced Product Manager that can lead our digital projects as we significantly scale these initiatives.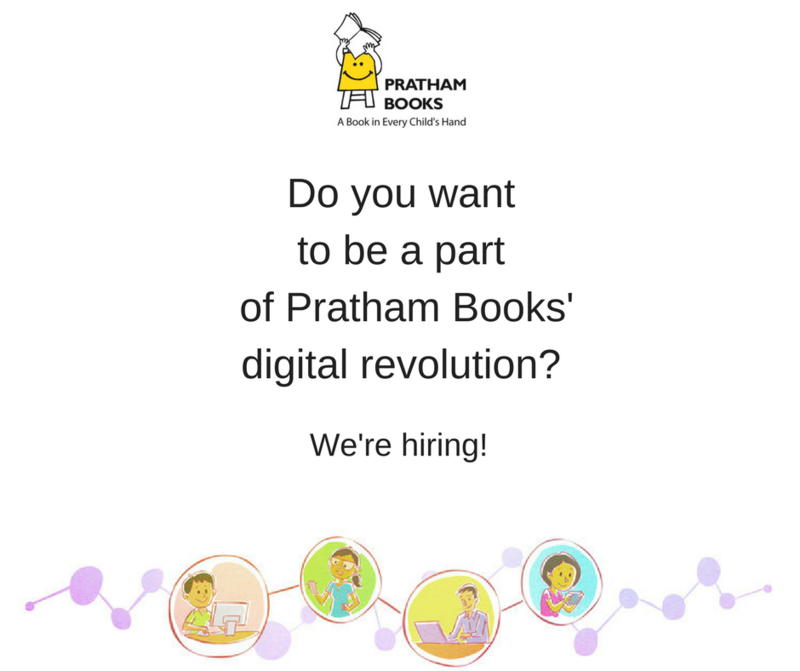 About the Digital Properties
Pratham Books has two digital platforms - StoryWeaver and Donate-a-Book.
Storyweaver is a digital platform that hosts stories in languages from India and beyond, so that every child can have an endless stream of stories in her mother tongue to read and enjoy. The stories can be read, translated, versioned or downloaded for free. All stories on the platform are openly licensed and the goal is to open source the code as well. In just one year, StoryWeaver has scaled from 800 stories in 24 languages to 2800 stories in 59 languages by engaging with a community of users. We want every child to have access to quality reading resources in their own language.
StoryWeaver is being recognized as an emerging innovation that can transform the early literacy reader ecosystem globally. Our vision is for StoryWeaver to be the largest multilingual open library in the world for children by empowering communities to address the scarcity of reading resources in their mother tongue languages and scale the quantity and quality of content being produced.
Donate-a-book from Pratham Books is a unique, crowdfunding platform that helps raise funds for organizations that want to build children's libraries.
Job Description
We are looking for a passionate individual wanting to make a difference, one who believes that technology can be a powerful enabler in creating equitable access to resources.
This role requires a seasoned manager and technologist who can work effectively, both independently and collaboratively, in a team environment and deliver the project in a timely manner within allocated resources and budgets. The Product Manager will play a strategic role in defining the product roadmap, translating it into detailed requirements and developing a roadmap for delivery. S/he will work closely with the domain, outreach and content teams to define the user requirements which will guide feature development. All aspects of managing the project including the RFP process, vendor selection, hiring of people, documentation and project delivery will be managed by the Product Manager.
The position will report to the Head of Digital Projects but also requires working closely with the top management. In a 3 year time-frame the project outcomes are expected to scale by 10x and the Product Manager will play a critical role in ensuring the smooth functioning of the platform at this scale. Most importantly the person needs to be an out-of-the box thinker and should be a strong believer and propagator of use of open technologies.
Responsibilities
Understand the user requirements and define the product roadmap

Generate RFP's and manage the process of technology vendor selection

Prepare the user stories, documentation and compile the platform requirement and workflow documents

Scope and prioritize the product feature sets

Work closely with technology vendors on all aspects

Ensure the project is done within the budgeted resources

Optimize the user experience

Be an evangelist in the tech community to build awareness around the platform.
Mandatory Requirements
BTech/MSc/MCA degree in Computer Science or related disciplines

Proven work experience in product management

Strong technical background with hands-on experience in open source web and mobile technologies

Very good written and verbal communication skills

8 -10 years of experience
Nice to have but not mandatory
Experience working with non-profits.

Domain knowledge in publishing industry, Indic language experience
Location: This role is based out of Bangalore and is full-time. The project is expected to complete within a 3 year time-frame.
Salary: Compensation will be commensurate with experience.
Interested candidates are requested to send in their resume to storyweaver@prathambooks.org
Be the first to comment.
---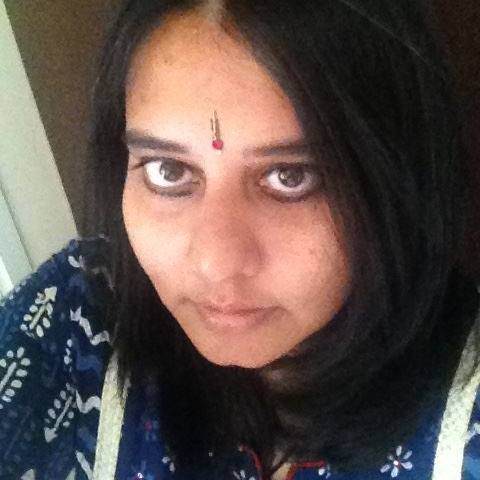 Swetha Prakash has an MA in Writing from the University of Warwick and is the recipient of the Charles Wallace India Trust Award by the British Council.She has won the The Times and Scottish Book Trust's New Writer Award and her book 'Padma Goes To Space' has been published by Tulika Books. She has edited India's first book on storytelling for schools published by Kathalaya, and recently wrote a nonfiction book called "Indian storytelling traditions." She writes about how she is using StoryWeaver to raise funds for an NGO.
Everbefore the story goes...With humanity came myths and with myths came civilization. Myths are our collective dream. Myths are profoundly important for our individual and collective consciousness.
I am running a charity fundraising campaign for the Bangalore based poverty alleviation initiative, The/Nudge Foundation by creating original myths everyday. The campaign is called The Living Myths project. As a part of this campaign, I am posting one myth everyday on Storyweaver for 21 days. I am also urging friends and family to raise funds for The/Nudge Foundation by donating to my campaign on Ketto, which can be found here.
The/Nudge Foundation is a non-profit working on tackling poverty, which is the greatest human development challenge of our times. Their goal is to nudge 1 million people out of poverty.
How are they solving for it? Their flagship program, Gurukul, is a 100-day residential program for underprivileged youth where they are educated on livelihood skills, digital literacy, financial management, family management and personal development. The program works towards the holistic development of the students and makes sure that they work towards growing in their respective careers and always aspire for better opportunities. The Gurukul program assures job for every student and boasts off 123% placement rate.
Stories, myths and collective consciousness
What is storytelling really? It is an expression, which arises within the body from the same space that makes people paint, sing and dance. It is a message from your soul that you want to transmit to the world at large. Storytelling defines how we react to both external solid realities and to ephemeral ideas. The tellers are adepts at conjuring up the confusions and misapprehensions of life universe and everything. Stories attempt to pierce through the evanescent illusion of all life and creation. They bring to us the fullness of all life, its fulfilment, its elixir of immortality shrouded in the casket of death. Stories help us access the embodied existence of others, providing us with the fullness of our own being. They change and mould our collective consciences and teach us to extend our sympathies to other beings that share this existence with us. Stories are in their core lessons in sympathy, helping us extend our compassion and empathy to others.
Myths are narratives that answer the most profound and primordial questions of existence through fascinating stories populated by fantastic creatures. Myths typically attempt to explain how the universe is created and the primary powers that are behind all creation, manifestation and destruction. Myths about powerful beings responsible for creation can be found as far back as the Vedas.
Devdutt Pattanaik says in Indian mythology: tales, symbols, and rituals from the heart of the subcontinent, 'Myth can be defined in two ways. First, it is a sacred idea that is inherited over generations. Second, it is absurd, irrational, and fantastic concepts about the world that appeal to unsophisticated minds. The two meanings are two sides of the same coin. Depending on one's point of view, a story, an image, or a custom can be sacred or stupid'
Most Indian myths can be found in the Puranas. Varied versions of the same myth exist. The same myth again may be open to varied interpretations depending on the audience and the purpose of narration. A myth may serve as simple delightful entertainment for the whole community or it may be understood as an entire philosophy encapsulates in symbolic code that opens up an entirely new field of meaning to a spiritual initiate who is able to read the sandhya bhasha or mystery mystical language.
You can read Swetha's modern myths here.
Are you using www.StoryWeaver.org.in in an interesting way? Write in and tell us at storyweaver@prathambooks.roh
Be the first to comment.
---
By Bijal Vachharajani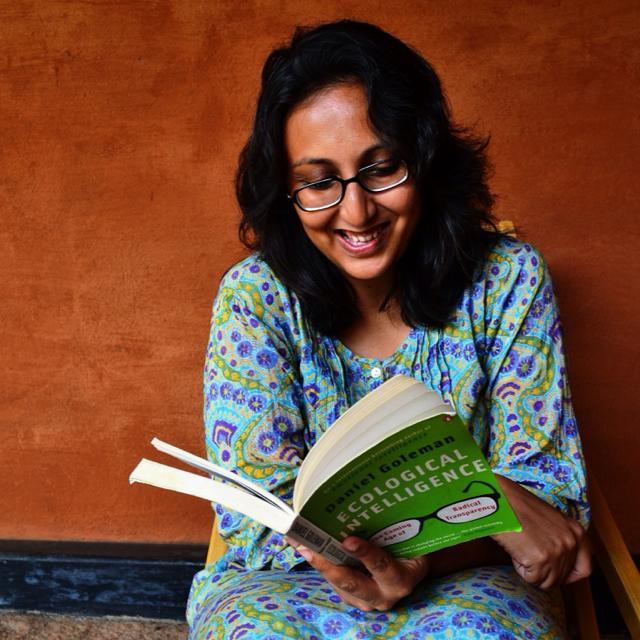 When Bijal Vachharajani is not reading Harry Potter, she can be found looking for tigers in the jungles of India. In her spare time, she works to fund the trips and books. She did this by working as the Editor at Time Out Bengaluru. After having studied climate change at the University for Peace, she now writes about education and sustainable development and is a consultant with Fairtrade Asia Pacific. She is also one half of BAM! Books, an Instagram-led project which talks about children's and Young Adult books. She tweets at @bijal_v.
My mother's kitchen operates on a seasonal calendar, something I took for granted for a long time. As winter would approach, wondrous smells of ghee, whole wheat flour and jaggery simmering in a kadhai would tell us that godpapdi was being prepared that day. When rain would slow down our work schedule, spinach would no longer be cooked in the house, because mum believed that insects nestled in the palak leaves during the monsoon season. Summer would herald the impatient wait for our regular mango seller, until finally bowls of aam ras, chilled to golden goodness, arrived on the lunch table.
There's an anticipation to eating seasonally – nothing beats drizzling notun gur over your creamy white dahi in winter, nibbling on slices of raw mango slathered with salt and red chilli powder at the beginning of summer, and wrestling with masala bhutta cobs in one hand and umbrellas in the other during the monsoon season. Which is pretty much what Neema, the protagonist of the picture book "What's Neema Eating Today?" does – eat with relish but seasonally. And Priya Kuriyan has created the perfect Neema – a child who eats with abandon, enjoys her food, while revelling in nature's bounty. Really, this picture book is all down to the extremely talented Priya!
Today with technology, our food's taken on a homogenous quality which while convenient, is almost boring. Watermelons are available through the year, never mind that they taste bland most months. Strawberries taste like little cardboard pieces, while the mysteriously-available-in-March-mangoes are best left on trees to ripen naturally. I stopped eating bananas for a while when I read this story about how to keep up with our insatiable demand, farmers were being forced to ripen the fruits with the help of harmful chemicals. And I suspect Neema would definitely turn up her nose at it as well.
Which is why I was excited to do a book on eating as per the season, when Yamini Vijayan of Pratham Books StoryWeaver asked me to write one (I commission and edit a set of STEM picture books on environment for them). Of course, one of the challenges was leaving out autumn and spring. In school, we learn about the five types of seasons – spring, summer, monsoon, autumn, and winter. But most parts of India experience summer, monsoon, and winter, and which is why we decided to concentrate on those seasons. And Priya has captured the seasons beautifully – from the glowering clouds that roll up during the monsoon to that gorgeous feeling of being outdoors on a crisp, winter day. It's all in there.
Neema is inspired from some of the work I have done with Fairtrade over the last couple of years – I have had the privilege to meet farmers and I am always gobsmacked at the kind of seasonal and local variety you find in our country. At the Fair Trade Alliance Kerala seed fest, a farmer from the Mananthavady taluk in the Wayanad district of Kerala had put up a dazzling display of 26 kinds of chillies. Another farmer who is part of Chetna Organic in Telangana is saving a local variety of red gram seed and growing it for her family. In Odisha, I sampled kala jira rice, which when cooked is so fragrant, that you will forget basmati in a trice.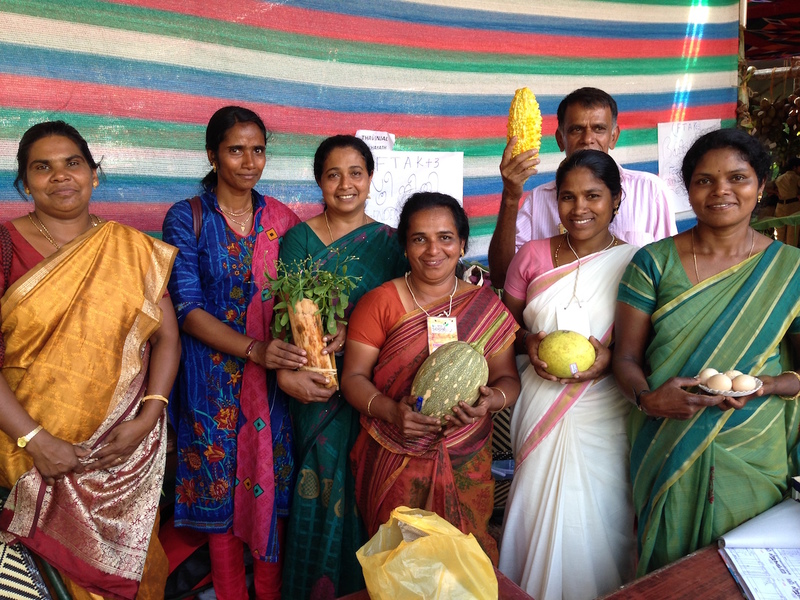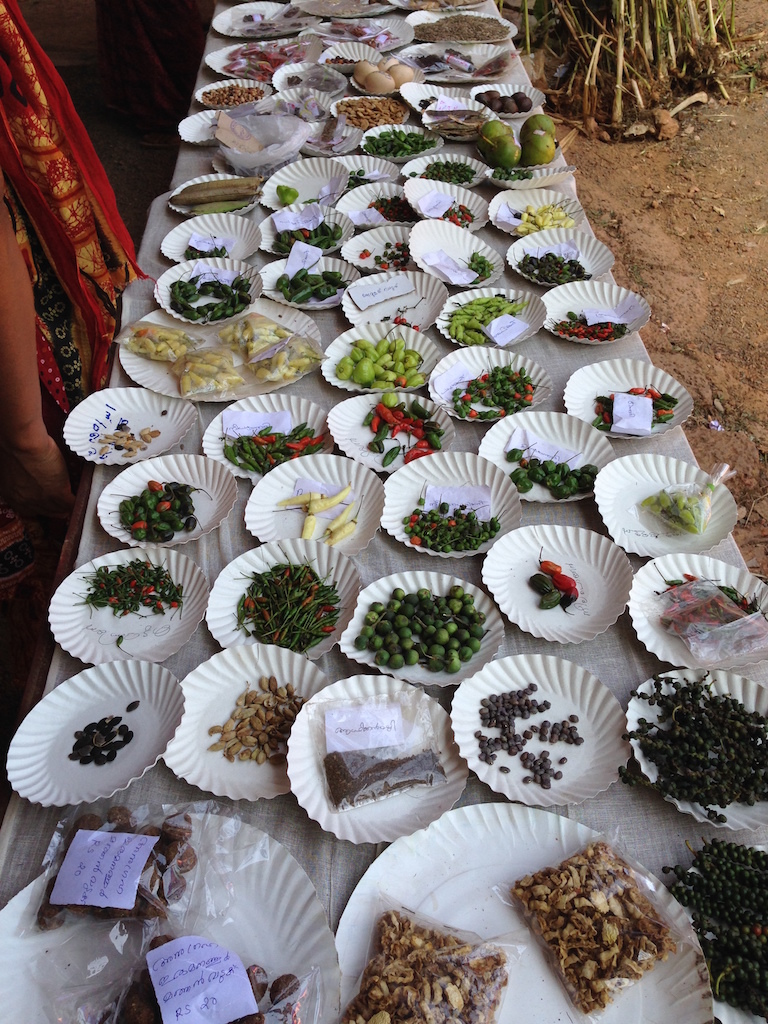 Copyright Bijal Vachharajani/Fairtrade India
However, not all's well in the world of food diversity. The Food and Agriculture Organization of the United Nations estimates that since the "beginning of this century, about 75 per cent of the genetic diversity of agricultural crops has been lost." And climate change is impacting agriculture at an unprecedented pace – the FAO says that the "change in seasonality attributed to climate change can lead to certain food products becoming more scarce at certain times of year. Such seasonal variations in food supply, along with vulnerabilities to flooding and fire, can make livelihoods more vulnerable at certain times of the year. Although these impacts might appear indirect, they are important because many marginal livelihood groups are close to the poverty margin, and food is a key component of their existence."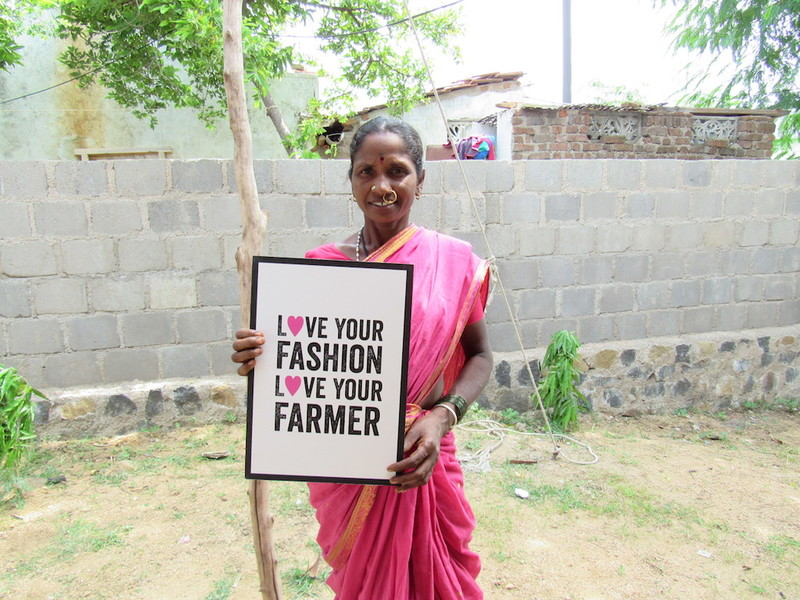 Atram Kusu Bai is a Fairtrade farmer with Chetna Organic in Telangana. A cotton farmer, she's also preserving a red gram seed that is indigenous the region. Image copyright Bijal Vachharajani/Fairtrade India
It's not easy always to eat seasonally, when you're shopping online or faced with a dazzling array of apples, kiwis and oranges from far-flung corners of the world. Our food system has increasingly become complex. But ask your fruit seller, keep a track of seasons, and enjoy eating them. After all, fruits and vegetables taste best when in season. Or simply like the meme goes: Neema eats with the seasons. Neema is cool. Be like Neema.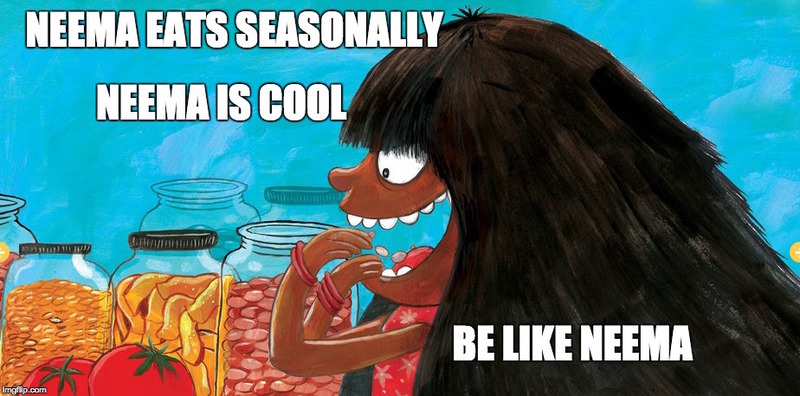 (Psssst... we had a super fun, informative twitter chat with Bijal on January 4th. If you missed it, you can read it here on Storify!)
Be the first to comment.
---