A big round of applause to all the participants for the fantastic response to our contest Retell, Remix, Rejoice 2020, which aims at finding and encouraging translation talent in 10 languages: Bahasa Indonesia, Chatino, Gondi, Gujarati, Hindi, Kannada, Malayalam, Marathi, Tamil, Telugu, and Vietnamese.
We are delighted to introduce you to the wonderful judges - we are incredibly grateful to them for lending us their expertise and time.
---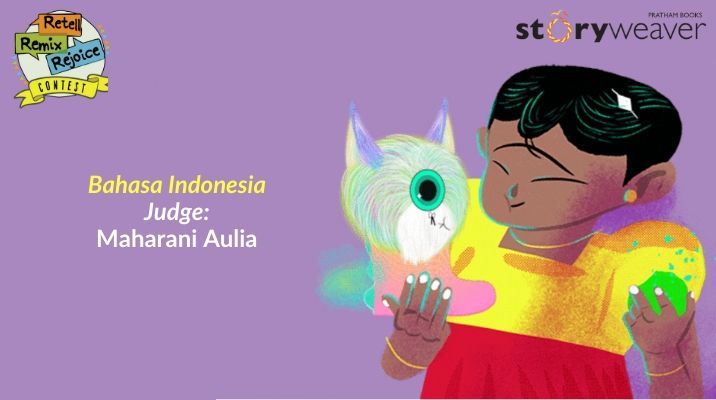 Bahasa Indonesia - Maharani Aulia
Maharani Aulia has written dozens of stories and translated over a hundred titles from English to Indonesian. Her works have been featured in local and national media, and published as books.
---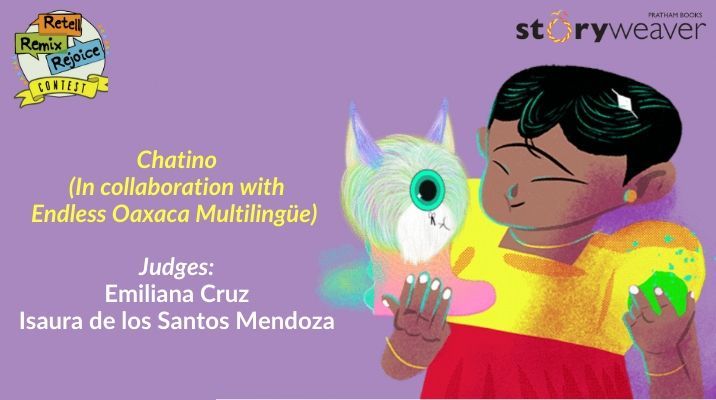 Chatino (In collaboration with Endless Oaxaca Multilingüe) - Emiliana Cruz and Isaura de los Santos Mendoza
Emiliana Cruz
Emiliana Cruz originaria de Cieneguilla, San Juan Quiahije, Oaxaca. Es antropóloga lingüista. obtuvo el grado de doctor en antropología lingüística en la Universidad de Texas en Austin y actualmente es profesora-investigadora en [CIESAS-CDMX]. Ha realizado investigación y campo en el Valle de Yakima (Washington State, EUA) con jóvenes jornaleros; en la región chatina en Oaxaca; y Chiapas. Sus líneas de investigación son diversas e interdisciplinarias destacándose principalmente en el ámbito de educación, derechos lingüísticos, territorio, documentación y revitalización lingüística. Ha recibido el premio Distinguished Community Engagement Award otorgado por la Universidad de Massachusetts. Su trabajo se distingue por una amplia experiencia de colaboración comunitaria, además es parte del colectivo "Diálogos entre Académicos Indígenas". En sus publicaciones se destaca su reciente publicación "evitemos que nuestro futuro se nos escape de las manos: tomás cruz lorenzo y la nueva generación chatina", este fue el resultado de un trabajo colectivo con chatinos.
Emiliana Cruz is a linguistic anthropologist originally from Cieneguilla, San Juan Quiahije, Oaxaca, Mexico. She earned her doctorate in linguistic anthropology from the University of Texas at Austin and is currently a professor-researcher at [CIESAS-CDMX]. She has conducted research and field work in the Yakima Valley (Washington State, USA) with young day laborers; in the Chatino region in Oaxaca; and Chiapas. Her lines of research are diverse and interdisciplinary, standing out mainly in the field of education, linguistic rights, territory, documentation and linguistic revitalization. She has received the Distinguished Award Community Engagement Award from the University of Massachusetts. Her work is distinguished by a wide experience of community collaboration, and is also part of the collective "Dialogues between Indigenous Academics". Her recent publication "Let's prevent our future from slipping out of our hands: Tomás Cruz Lorenzo and the new Chatino generation " was the result of a Chatino collective project.
Isaura de los Santos Mendoza
Isaura de los Santos Mendoza es originaria de San Miguel Panixtlahuaca, Juquila, Oaxaca. Actualmente es una estudiante de doctorado en la Universidad de Massachusetts, Amherst. Su proyecto se centra en la literacidad de la lengua chatino. Asimismo, colabora en el proyecto de documentación de la lengua chatino donde elabora textos y materiales sobre la gramática de su lengua natal. Su pasión es la enseñanza y traducción de textos a la lengua chatino.
Isaura de los Santos Mendoza is originally from San Miguel Panixtlahuaca, Juquila, Oaxaca. Her passion is teaching and translating texts into the Chatino language.She is currently a PhD student at the University of Massachusetts, Amherst, and her project focuses on the literacy of the Chatino language. She also works on collaborative projects for the documentation of Chatino, where she develops texts and materials on the grammar.
---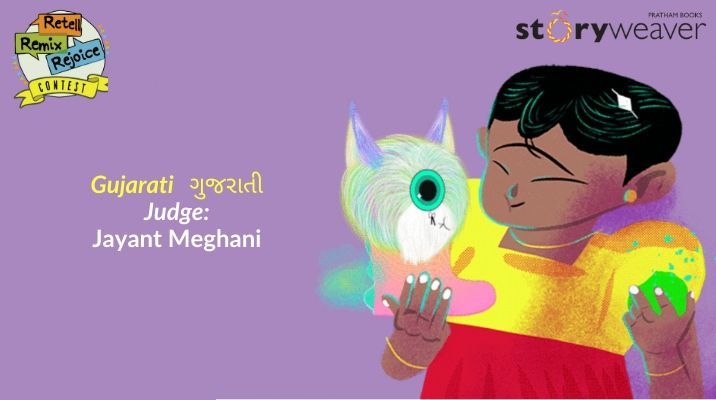 Gujarati - Jayant Meghani
Jayant Meghani has a postgraduate degree in librarianship from the M.S. University, Vadodara. He was a librarian for eight years, before starting Prasar, a bookshop that continues to run. He also works as an off-site editor-translator with Navajivan, Gandhiji's publishing house in Ahmedabad.
---
Hindi - Priyanka Gautam
Priyanka Gautam is a Hindi translator and research scholar. She has translated many books with multiple educational organisations.
---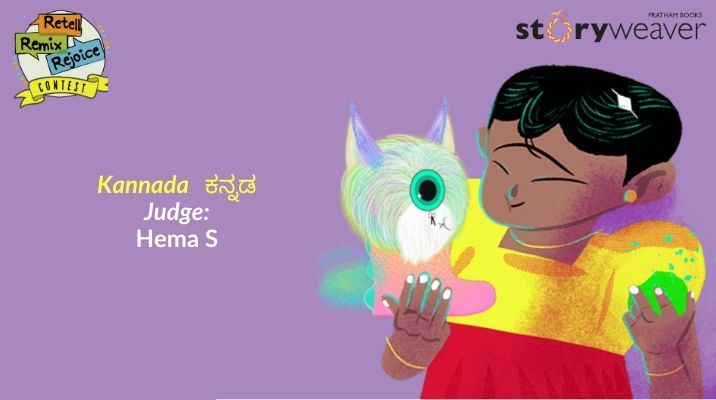 Kannada - Hema S
Hema S has translated articles, stories, and poems from Hindi and English to Kannada. Her translated works have appeared in popular Kannada dailies like Prajavani, monthly magazines like Mayura and Kasthuri, and online literary portal Kendasampige. She is known for translating Akira Kurasova's autobiography to Kannada, and the same has been published episodically on Kendasampige. Hema's published Kannada translations include Abbas Kirasthomi's poems and "Uriva Banada Kogilegalu" (published by Srushti).
---
Malayalam - Parvathi Aithal
Parvathi Aithal is a retired professor and a well known translator from Malayalam to Kannada and vice versa. She has translated more than 10 literary works from Malayalam to Kannada and has won awards. She also excels in English, Hindi and Tulu.
---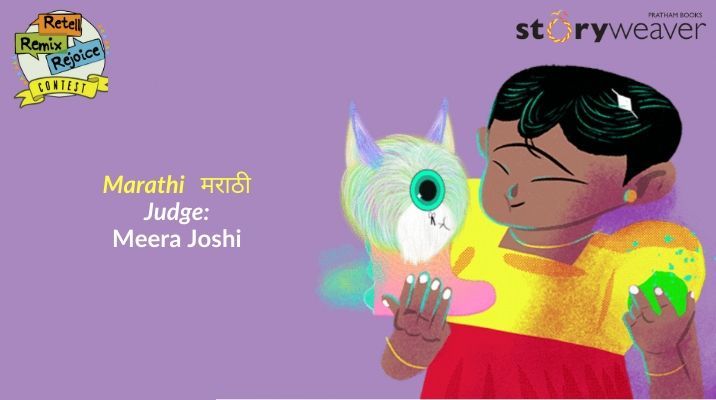 Marathi - Meera Joshi
Meera is a veteran journalist and has been associated with Pratham Books as a reviewer and Marathi language expert for a long time.
---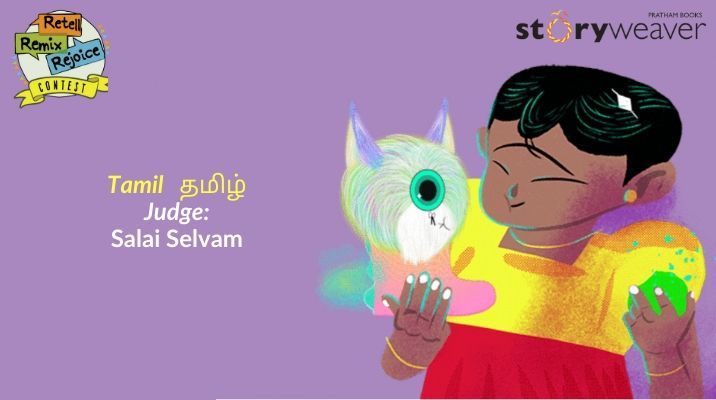 Tamil - Salai Selvam
Salai Selvam is a Tamil writer, interested in education, childhood studies, and children's literature. Her writings have appeared in several Tamil feminist journals and newspapers. For over three decades she has been working on literacy and gender issues in rural India. Currently, she is with an educational foundation that supports teacher education.
---
Telugu - Suresh Kosaraju
Suresh is the editor at Manchipustakam where he manages translation, editing and publication. has been associated with Pratham Books as a Telugu language expert for many years.
---
Stay tuned for the results of Retell, Remix, Rejoice 2020!
The winner(s) will have a one-on-one mentoring and feedback session with an editorial expert. The winner(s) will also receive a print copy of the translated book (only for participants based in India), and the winning translation will be published and highlighted as a Recommended title on StoryWeaver.
---
Illustrations by Aindri C, from Shoecat Thoocat, written by Shalini Srinivasan and published by Pratham Books.
Be the first to comment.
---
About the Organization
Pratham Books is a not-for-profit children's book publisher that was set up in 2004 to publish good quality, affordable books in many Indian languages. Our mission is to see 'a book in every child's hand' and we have spread the joy of reading to millions of children in India.
In the last few years, we have invested deeply in technology-based initiatives to further our mission. We are now looking for a Data Engineer as we significantly scale these initiatives.
About the Platform
StoryWeaver is a digital platform that hosts stories in languages from India and beyond, so that every child can have an endless stream of stories in her mother tongue to read and enjoy. The stories can be read, translated, versioned or downloaded for free. All stories on the platform and the platform source code are openly licensed. In two years, StoryWeaver has scaled from 800 stories in 24 languages to 20,000+ stories in 250+ languages by engaging with a community of users. We want every child to have access to quality reading resources in their own language.
StoryWeaver is being recognized as an emerging innovation that can transform the early literacy reader ecosystem globally. Our vision is for StoryWeaver to be the largest multilingual open library in the world for children by empowering communities to address the scarcity of reading resources in their mother tongue languages and scale the quantity and quality of content being produced.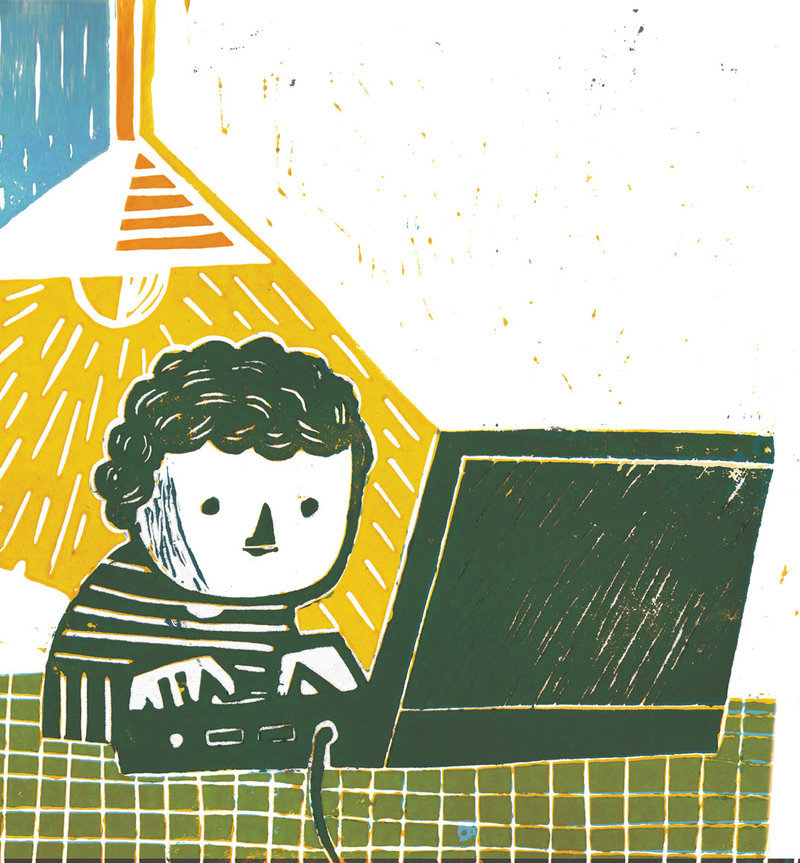 Illustration by Joanna Mendes from 'Talking in Twos' written by Sarat Talluri Rao, published by Pratham Books
Job Description
We are looking for a passionate individual wanting to make a difference, one who believes that technology can be a powerful enabler in creating equitable access to resources. This role requires an individual contributor who can work effectively, both independently and collaboratively, in a team environment and deliver the project in a timely manner within allocated resources and budgets.
We are looking for a Data Engineer to work closely alongside our Product Development team and other internal teams. You will discover the insights within our data sets, and help us make smarter decisions to deliver better results for our end users.
In this role, you will be responsible for providing requirements for new features for collection of data, execute data validation checks, ensure data integrity, use statistical techniques to analyse and interpret data, take complete ownership of Google Analytics, identify trends and provide insightful reports to internal and external audience.
We're looking for a self-motivated, detail-oriented individual who loves digging into data, developing insights and communicating data-based recommendations. You will work closely with the internal teams and tech partners to implement your recommendations, track the impact and course correct.
The position will report to the Senior Management of StoryWeaver. The person needs to be an out-of-the box thinker and should be a strong believer and propagator of use of open technologies.
The individual will be responsible for the following:
Work closely with internal product owners to understand the target audience and their motivations, generate the product enhancement, development ideas and requirements documents
Perform steps required to create analysis-ready data sets.
Perform regular data analysis to demystify, assess readership, content gap, trends and performances.
Extracting valuable insights from our data and generating analysis that drives user retention and conversion.
Build a visualization tool that allows internal users to interactively explore the data and insights.
Respond to ad-hoc report and analysis requests from other teams as needed.
Take all data driven features to fruition by working closely with the product development teams.
Be the bridge in between organization and other data-for-good communities.
Required skills:
Bachelors in Computer Science, Statistics, Market Research, Operational Research, or related quantitative discipline.
Experience working with databases and dashboards
Experience / Capability to draw insights from Data
Experience working in data analytics.
Good technical background with some hands-on experience with Python/R, relational databases (PostgreSQL) to perform data analysis.
Ability to interpret findings through data visualization and delivery of presentations to both internal and external stakeholders.
Expertise with Google Analytics and common Data Visualization platforms like Tableau, Apache Superset, Google DataStudio etc.
Strong analytical thought process, ability to extract data and transform it into valuable, actionable insights
1-3 years of experience in the industry
Nice to have but not mandatory
Experience working with non-profits
Experience with Machine Learning
Location: This is a full-time position based out of Bangalore.
Salary: Compensation will be commensurate with experience.
Interested candidates can email their resume to [email protected]
Be the first to comment.
---
Gireesh is a writer, visual artist and translator from Chennai. A fine arts graduate, his book was published last year in Tamil and an English translation is under progress. He has translated many storybooks on StoryWeaver including Friends Under the Summer Sun and Who Stole Bhaiya's Smile?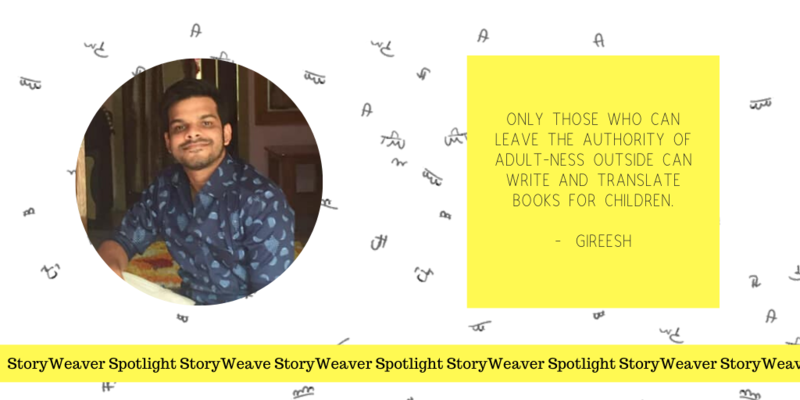 Q: Can you tell us anything about yourself and your job that would surprise us?
நான் ஓவியக்கல்லூரியில் படித்து விளம்பரத்துறையில் வேலை செய்கிறேன். விடுபட்டவை எனும் புத்தகமும் எழுதி இருக்கிறேன். பத்திரிக்கைகளுக்கு கட்டுரைகளும் கதைகளும் எழுதும் பழக்கமுண்டு.

I am an arts graduate from the Fine Arts college, working now in advertising. I have written a book called Vidupattavai, among other stories and articles.
Q: What is your personal relationship to language and/or translation?
எனக்கு புத்தகங்கள் வாசிப்பது மிகவும் பிடிக்கும். வாசிப்பதன் மூலமாக புதிது புதிதான வார்த்தைகளையும் சொல்லாடல்களையும் கண்டுகொள்ள முடிகிறது.
I love reading. I find new words and expression through reading.
Q: When you have been given a story to translate, what is your process, and how long does it usually take?
முதலில் அந்த கதையை முழுவதுமாக வாசிப்பேன். மொழிபெயர்ப்பதற்கு முன்னால் அந்தக் கதையை மனதிற்குள் பலமுறை தமிழில் சொல்லிப்பார்ப்பேன். பின்னர் அதை மொழிபெயர்ப்பு செய்வேன். மொழிபெயர்க்க இரண்டு முதல் மூன்று மணிநேரங்கள் எடுத்தாலும் குறிப்பிட்ட இடைவெளியில் அதை வாசிப்பேன். தேவைப்படும் மாற்றங்கள் செய்வேன். வாசிக்கும்போது கடினமாக இருக்கும் வார்த்தைகளையும், பெரிய பெரிய வாக்கியங்களையும் கூடுதல் கவனத்தோடு மாற்றுவேன்.
I read a story and tell it to myself in Tamil a few times. I spend a few hours translating it, and I read it a couple of times at regular intervals to make changes. When I feel certain words or sentences are hard, I change them with extra care.
Q: How did you cultivate the skills needed to translate books for children?
குழந்தைகளுக்கான புத்தகங்களை மொழிபெயர்க்க தொடங்கியபிறகு நிறைய குழந்தைகள் புத்தகம் வாசிக்கிறேன். பெரும்பாலான புத்தகங்கள் பெரியவர்கள் மொழியிலேயே இருப்பதால் வார்த்தைகளுக்கான மாற்று வார்த்தைகளைத் தேடிக் கண்டுபிடிக்கிறேன். எளிதான வார்த்தைப் பதங்களை தொடர் வாசிப்பில் இருந்தே பெற முடிகிறது.
I've read a lot of children's books since I started translating books for kids. Since most books are for adults, I look for alternative words for words. You can get easy word phrases from a series of readings.
Q: What was the experience of translating a children's book like, compared to translating/writing for adults?
பெரியவராக இருப்பதால் பெரியவர்களின் மொழி புரிந்து விடுகிறது. ஆனால் குழந்தைகளின் மொழியைப் புரிந்து அவர்களுக்கான மொழிபெயர்ப்பு செய்வது என்பது சவாலாகவே இருக்கிறது. சமயங்களில் இது குழந்தைகளுக்கு புரியாது என இன்னும் எளிமைப்படுத்தும் விதத்தில் எழுத முயற்சிக்கும் வார்த்தைகள் குழந்தைகள் ஏற்கனவே அறிந்து வைத்திருப்பது ஆச்சரியமாக இருக்கிறது. மேலும் குழந்தைகள் புத்தகம் என்றாலும் நான்கு நிலைகளில் உள்ள குழந்தைகளிடம் கொண்டு சேர்ப்பதும் சவாலான வேலையே.
As an adult it is easy to understand adults' language. But to understand and translate in a child's language is hard. Sometimes when I try to simplify words thinking it might not be understood by children, it was surprising to know children already knew those words. It is also challenging to work across four different levels.
Q: You have translated more than a few books for us now. Which is your favorite among them and why?
நான் மொழிபெயர்ப்பு செய்த கதைகளில் எனக்கு மிகவும் பிடித்தது கோடைகால நண்பர்கள். குழந்தைகளிடம் பாலினம் குறித்த மிகத்தேவையான உரையாடலையும், சகமனிதர்களை அவர்களாகவே ஏற்றுக்கொள்ள வேண்டும் என்கிற கருத்தையும் அந்தக் கதை கூறியதால் எனக்கு அது பிடித்திருந்தது.
Friends Under the Summer Sun was my favorite. As it starts the necessary discussion about gender, and tells every kid to accept others as they are, I like it.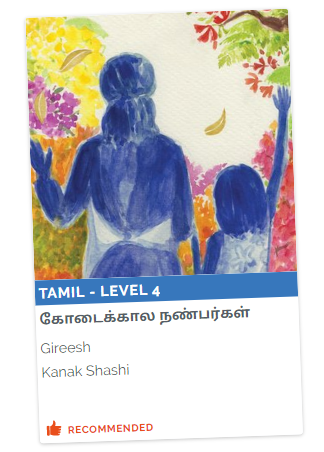 Q: What is the hardest thing about translating from English into Tamil? How do you navigate words or phrases that are tricky to translate?
பெயர்களையும் ஊரையும் மொழிபெயர்ப்பில் கொண்டுவருவதே சிரமமாக இருக்கும். சில சமயம் ஒரு நல்ல கதையை மொழி பெயர்க்கும்போது நம்மால் பொருத்திப்பார்க்க முடியாத பெயர்கள் இருக்கும்போது அவற்றுடன் தொடர்புபடுத்த முடியாது. அம்மாதிரியான சமயங்களில் வாய்ப்பிருந்தால் அர்த்தம் மாறாத மற்றும் தொடர்புபடுத்தக் கூடிய பெயர்களை உபயோகிக்கிறேன். பின்னர் உணர்வுகளை வெளிப்படுத்த பயன்படும் எந்த பொருளும் இல்லாத சத்தங்களும் கடினமே. அவற்றிற்கு இணையாக தமிழில் பயன்படுத்தப்படும் சத்தங்களை அந்த இடத்தில் பயன்படுத்துகிறேன்.
It is hard sometimes to capture names of persons and places. In such situations, I make them sound more relatable. Onomatopoeia is always a challenge, I try not to transliterate and use sounds more relatable to Tamil readers.
Q: What type of person do you think makes the best translator for children's stories?
குழந்தைகள் உலகத்துக்குள் பெரியவர்கள் எனும் அடையாளத்தோடும், அதிகாரத்தோடும் நுழையாத ஒருவரால் மட்டுமே குழந்தைகளுக்கான புத்தகத்தை எழுதவும் மொழிபெயர்க்கவும் முடியும்.
Only those who can leave the authority of adult-ness outside can write and translate books for children.
Q: Do you have any advice for anyone interested in becoming a translator?
நமது திறமையையோ நமது மொழிப்புலமையையோ குழந்தைகளுக்கு நிரூபிப்பது நமது வேலையல்ல. ஏற்கனவே எழுதப்பட்ட புத்தகத்தை சுவையும் கருத்தும் மாறாமல் எளிமையாக நமது மொழியில் மாற்றிக் கடத்துவது மட்டுமே நமது வேலை என்பதைப் புரிந்துகொள்பவராலேயே ஒரு நல்ல மொழிபெயர்ப்பை செய்ய முடியும்.
We are not trying to impress children with our talent and language skills. We only transfer a book with the same feel and simplicity. One can be a good translator when one understands this.
---
You can read all the books translated by Gireesh here.
Do join the conversation by leaving your thoughts in the comments section below. You can also reach out to us through our social media channels: Facebook, Twitter and Instagram.
Be the first to comment.
---