Since February 2019, the project Endless Oaxaca Multilingüe (EOM) of the Fundación Alfredo Harp Helú Oaxaca has made use of the StoryWeaver platform to generate content in Triqui, Chatino, Chocholteco, Mixe and other languages for the Oaxacan version of Endless Oaxaca Multilingüe.

Based on this experience and the positive reception of the stories in Oaxaca, the EOM project and StoryWeaver are exploring new dimensions of this partnership in order to create children's reading materials in the indigenous languages of Oaxaca and Mexico.

Working together with the Intercultural Education and Mediation Laboratory, at the Autonomous University of Querétaro, EOM has developed a collection of animated videos from the stories available in StoryWeaver. They have also created versions of books for digital reading in the form of printable PDFs to be shared in schools or community libraries. Having created about 380 different stories, Each book or video that they have produced has a version in Spanish and in the selected indigenous language.

Watch this video message from Pedro Cordana who is a part of the Intercultural Education and Mediation Laboratory, at the Autonomous University of Querétaro here: https://youtu.be/nT1BzhXrPhY

StoryWeaver hosts over 500 stories in these languages, most of which are due to the mobilization efforts of Endless Oaxaca Multilingüe. Read the entire collection of these storybooks for free here.
comment (1)
---
Every year, StoryWeaver marks #InternationalMotherLanguageDay to highlight the importance of giving every child access to joyful mother tongue reading material. Learning to read in one's mother tongue helps make education more engaging, meaningful, and enjoyable for children. 💡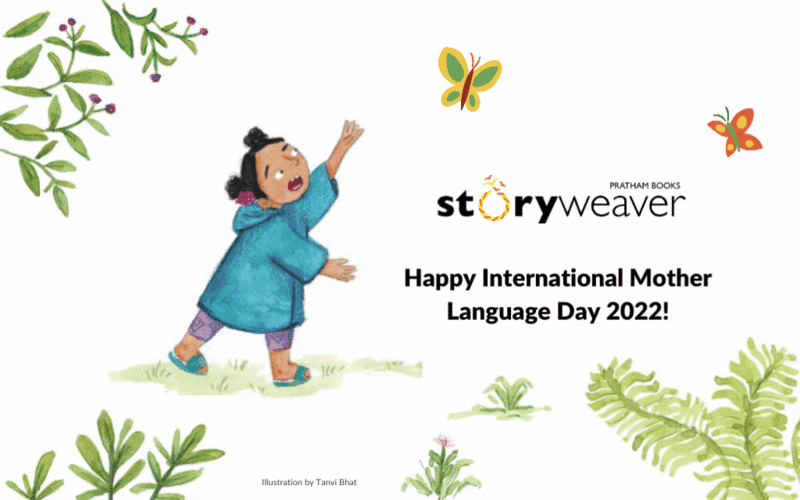 UNESCO reports that 40% of the global population don't have access to education in a language they speak or understand. The disruption of education systems due to #COVID19 has deepened inequities. The need for high-quality multilingual children's books is more urgent than ever.
In keeping with UNESCO's theme for #IMLD2022: "Using technology for multilingual learning: Challenges and opportunities", we're sharing an interview where Purvi Shah, Sr Director — StoryWeaver, talks to Michael Swanton about the tremendous work StoryWeaver is doing with partners like Endless Oaxaca Multilingüe. 📚🚀
Click here to read the entire interview: https://bit.ly/3GZyviA ✨
Read more about Endless Oaxaca Multilingüe here: https://fahho.mx/filiales-fahho/endless-oaxaca-multilingue/
comments (17)
---
September 30 is International Translation Day - a day that is very important to us at StoryWeaver.
For children to become readers, they must have access to books in the languages they speak and understand. Yet, this is sorely lacking in several parts of the world — there are not enough books, in not enough languages for children to learn and practise reading. A UNESCO study states that 40% of the world does not have access to education in their mother tongue.
In September 2015, Pratham Books set up StoryWeaver with the aim of addressing this scarcity of books for children. StoryWeaver was launched with 800 books in 24 languages. Today, just 6 years later, the platform offers over 38,000 books, and our language footprint has grown to 303 languages - 60% of these languages are indigenous.
In the coming days, we shall share more insights about the guiding principles that have helped us nurture an ecosystem to address the dearth of children's books in mother tongue languages.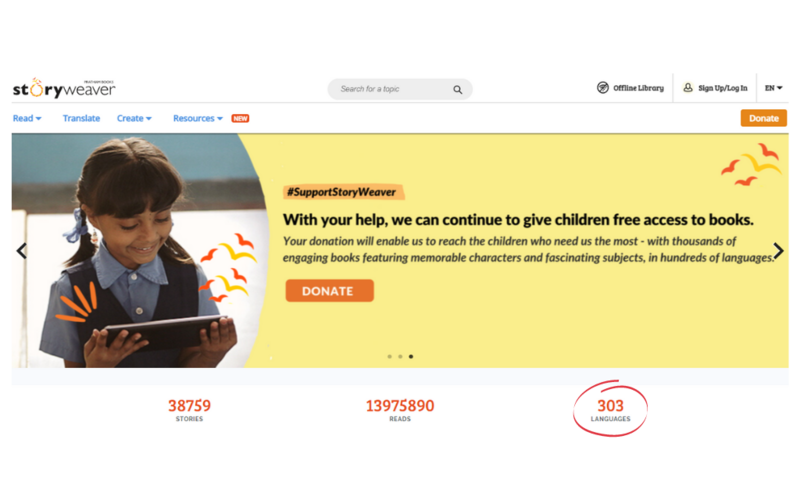 We want to say a big thank you to our wonderful translation community, our partners and collaborators that have helped us grow and learn on this journey to the 300 languages milestone on StoryWeaver. Here's to more storybooks in more languages, so that more children around the world can experience the joy of reading!
Be the first to comment.
---