Aparna Kapur, Assistant Editor, Pratham Books recalls our recent writing workshop with conservationists and research scholars at the Nature Conservation Foundation, India.
I'm less than two months old in Pratham Books and have heard all about the various writing, translating, outreach workshops conducted by the team. So when I was asked if I wanted to tag along to a workshop about making Level 1 and Level 2 picture books, I was keen to observe and said yes immediately. Of course, the luxury of silent observing was not given to me and I was assigned an activity to conduct. Trying to create an illusion of choice, I happily agreed.
The workshop was being conducted for the members of the Nature Conservation Foundation. The NCF office is located on a quiet street that's lined with trees, and when we walked in we were immediately met with the bustle of breakfast time. We were then ushered into a room, which would soon contain eleven workshop participants and four workshop conductors. Once we figured out the logistics of seating (the view was beautiful but the room was snug) and the mechanics of projecting (acquiring the right wire), we were ready!
As way of introduction, we went around the room telling everyone who our favourite children's book character is, which is how I think we all should introduce ourselves from now on.
Then we talked about Pratham Books and picture books, and read out some titles from StoryWeaver. This was followed by a quick tour of the StoryWeaver website where we showed them how to browse the site, search for images and create books. The NCF folk were involved and enthusiastic.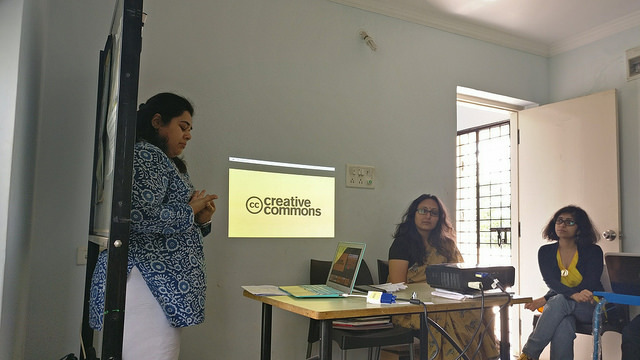 This was followed by a coffee break where everyone got to enjoy the generous collection of picture books that Bijal Vachharajani, Consultant Editor, Pratham Books had brought along. After coffee, we divided the eleven of them into groups for the first activity. Each group was given a list of rules for making a picture book, and had to arrange them in the order they considered most important. This led to some fascinating debates about the balance of text and images, the necessity of morals and optimism, and the need for rhythm and rhyme.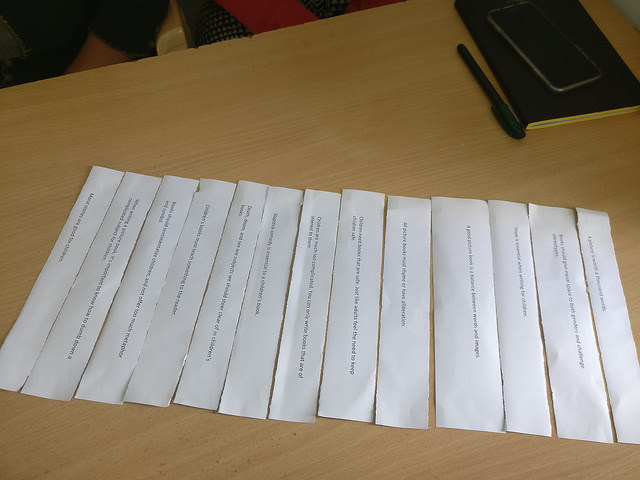 After that we told the groups to come up with a simple story based on eight random pictures. We had delightedly strung an outlandish sequence of pictures the previous day, and this served as their framework. Each time we moved to the next picture, the teams let out a groan and we smiled in (evil) satisfaction. The three stories we got at the end of it, however, were amusing and coherent. That's when I realised that each of these eleven people had a knack for storytelling!
My realisation was confirmed when we they began to think of ideas. Considering their work, we did expect interesting environmental themes. But we were an excited group of editors when their pitches included carnivorous plants, geckos, and misunderstood wolves!
After a well-earned lunch, we all went back to work. And by all, I mean the NCF people worked on the drafts of their stories while we sat like invigilators, reading their drafts and occasionally helping them find their way out of tricky spots in their manuscripts.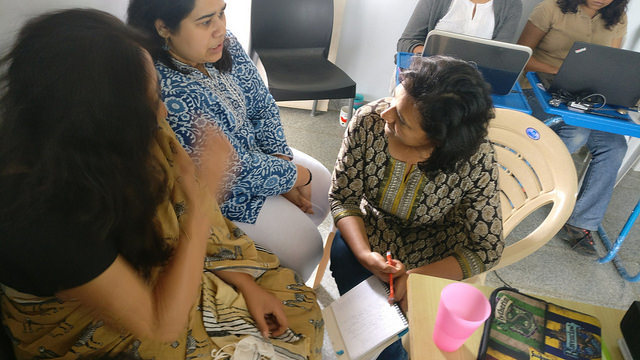 Finally, everyone read out their stories. Some employees who were not attending the workshop had given us explicit instructions to invite them for the idea-sharing and storytelling part of the workshop. They ended up being a participative and enthusiastic audience. We trust that this workshop gave the NCF team a foundation on which they will go on to write many many picture books. In return they gave us some fantastic ideas and superb stories!
Be the first to comment.
---
With our mission of 'a book in every child's hand', it is our constant endeavour to take more books and stories to more children. A key stakeholder in this mission are organisations and educators who help seed and cultivate the joy of reading in children. Along with reading, books also make great instruments of engagement in classrooms which is key to effective learning in classrooms.
With StoryWeaver, our open-source, multilingual digital repository of children's stories, access to good quality reading material has become much easier. Children and educators can read 4200+ stories in 81 languages and educators can also develop their own resources for their classrooms. Stories can be downloaded to be read offline or printed. New stories can be created using the image bank of over 6,500 illustrations! Users can also translate or re-adapt existing stories with simple tools embedded on the platform.
One of the ways in which we engage directly with organisations and educators is by conducting StoryWeaver workshops with them. The day-long session focuses on why reading is important and explores the platform in detail. Participants also get dedicated time to try the platform on their own and engage with the Pratham Books team and network with other participants. The workshops participation is free of cost, but on a first come first serve basis.
You can read more about our previous workshops in Hyderabad here and Delhi here.
We are planning two workshops in August & September. One is Chennai and the other one in Kolkata or Bhubaneswar. If you are an organisation that works with under-served children wanting to bring more stories to them and engage with StoryWeaver, please fill the form here and we'll contact you with further details.


If you want to know more about our efforts to engage with organisations or have anything else to say, please write to Khyati at [email protected] .
Be the first to comment.
---
Khyati Datt, a member of our outreach team writes about our recent workshop in Nashik with senior teachers of the SNS Foundation.
Our recent StoryWeaver workshop took us to the picturesque town of Nashik. Senior teachers from 6 different states gathered for the annual meet of the SNS Foundation, where they exchanged ideas, celebrated each other's achievements and discussed the long term goals of the foundation.
A day before the workshop, our team was introduced to the teachers in Mumbai and we were happy to learn that they were as excited to explore the StoryWeaver platform as we were to share it with them. The 3 hour drive to Nashik provided us the opportunity to interact with them in a relaxed space and understand their context better.
After a hearty breakfast the next day, everyone assembled for the workshop. The teachers shared highlights from their last one year and lauded each other on their achievements. We started the workshop with an ice breaking activity and moved on to a storytelling session. They were more than willing to share their experiences and ideas around using books with children. The teachers responded enthusiastically to using StoryWeaver in their classrooms. After a brief exploration of the platform, they went on to the task at hand, which was to search for books on the platform on the given themes. All teachers tried their hand at looking for content that they could possibly use with their students too. The teachers then shared the stories they had found and how they might use them in their classrooms.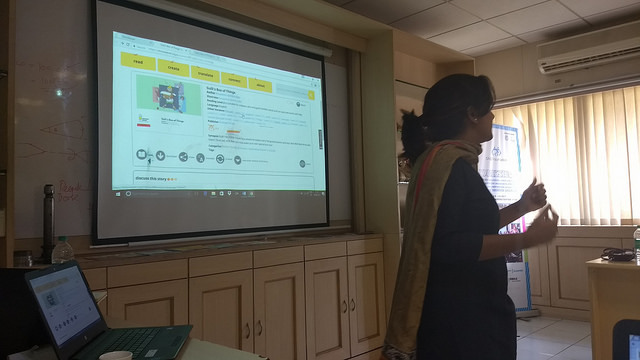 A satisfying lunch later, we moved on to discussing how they could use the platform to translate and create stories. They tried their hand at creating stories in their mother tongue and were excited about sharing this with their students back home. We got some really great stories and the teachers loved sharing their thought behind the story and presenting it in front of all of us. What was really impressive about this workshop was that the participants created original stories in 5 different languages- Tamil, Hindi, Kannada, English and Marathi.
The senior teachers gave us a great response and were happy to know that they could use wordless stories, flashcards, spotting books and a lot more resources from StoryWeaver in their classrooms. We discussed what students liked to read and how that could be used to motivate them academically as well.
As we wrapped up the workshop, the participants shared their thoughts with us on how they plan on using the platform and combining stories with curriculum. As Damayanti, who leads the CSR efforts of SNS Foundation, later told us, "there's so much more we can do in our classrooms through StoryWeaver and we can't wait to get started." The participants were patient and interacted with us throughout the session, for which we're thankful to them!
A big thank you also to the SNS Foundation for giving us the opportunity to interact with the teachers and their consistent support.
If you are interested in hosting a similar workshop for your organisation, drop us an email on [email protected]
Be the first to comment.
---